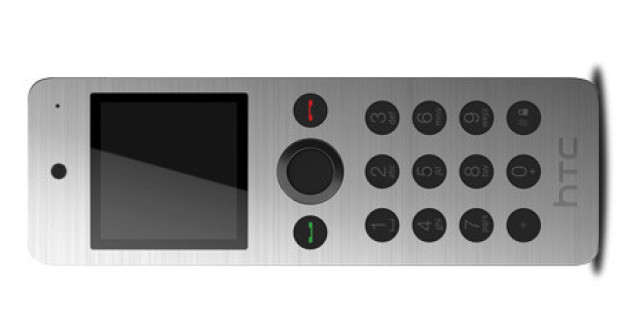 HTC
Now even your mobile phone has a mobile phone.
Ahead of the IFA tech show in Berlin, HTC has unveiled its latest innovation: the HTC Mini+, a Bluetooth 'phone' designed to be used when your real phone or 'phablet' is still in your bag.
The device is a small, remote-like device which connects to your regular phone via Bluetooth.
The Mini+ incorporates a 1.5-inch OLED screen and numbered buttons to display notifications, texts and other events, while also being able to take and make phone calls.
HTC said the device pairs over NFC, has a battery capable of lasting 95-hours on standby and said it can double up as a TV remote or presentation device.
Currently the phone works with the HTC One mini, HTC Butterfly s, HTC Desire 200 and HTC Desire 500.
The new device was shown off in press previews alongside the unveiling of a new 'vivid blue HTC One and One Mini, and the 'BoomBass" Bluetooth subwoofer.
Here's HTC's pitch from their website:
"Multi-tasking solutions for everyone: take calls while using your phone to surf online, watch videos or play games. Instant notifications of texts, events, and emails ensure you won't miss a thing. Hands-free remote camera control lets you take pictures from your phone at a distance. It even doubles as a TV remote control, and pairs with select HTC devices to operate multimedia streaming through your HTC Media Link HD. Built-in laser pointer and slideshow remote control capability give your presentations a professional polish. Use your HTC smartphone like never before with the HTC Mini+."