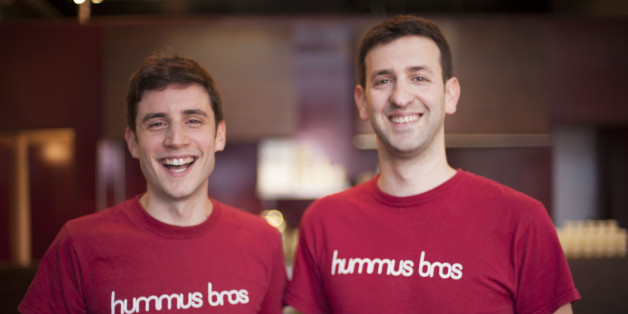 x
Hummus Bros, a cafe chain based around the a hummus-based cafe chain, came about as an idea after Christian Mouysset and Ronen Givon met at university.
They started up "Hummus Bros" in 2004, opening their first store in 2004. The "Brothers" label comes not from the fact that the pair are related, but because people kept asking them if they were brothers.
The chain quickly drew interest, with the pair going on to open three more stores over the next few years.
HuffPostUK sat down with the pair to find out how they've managed to become London's biggest hummus specialist cafe chain, and how they plan to go further.
So why did you base your business around hummus?
Christian: There are several reasons. mainly because we loved it so much but it's something that is very versatile. You can put with a lot of diffferent dishes, adding chicken, beef, or Indian and Mexican.
It's vegan as well and gluten-free.
How did you get Hummus Bros off the ground?
It was back in the day when banks were much more keen to lend to small businesses and help people set up.
We also saved a lot of money by doing a lot of the set-up ourselves, we were working flat-out for our first store, painting the walls and so on. We didn't get in a high-end agency or tell a builder to do it.
Starting in Soho first helped because all the press sees you - rather than being in a small alleyway where it'd take 6 months for people to notice you.
We did events like "Barter Day", where we encouraged people to donate clothes that they'd donate to charity shops to us, which we'd give to Oxfam, and we'd give them the equivalent amount in hummmus. Those sorts of things helped us get attention without having to spend so much.
We opened our second shop a year and a half after the first one. It was really hard but we were listed in Time Out as one of the best cheap eats and getting a lot of business.
Is hummus a cheap business?
We make everything. We bulk buy chick peas and all our resources.
We've got a kithchen where we have chefs preparing our hummus and making everything. But when we were back at the markets, we were doing it ourselves. We were in Ronan's mother's kitchen packing the food and going to the markets and selling it.
The first few times we were at the market stalls, we didn't know how much to make. We made like 10 kilos and it flew out. We used to double it and get to the stage where 50 kilos was being sold and that is a lot of demand!
What has been hardest challenge on your way?
That would be staff. Trying to hire the right people that you could train into managers. Now we have four units and nine managers.
When we have managers' meetings, we'll normally send a Google Doc a few days before that we'll share between everyone and get people to share comments on if there are any problems.
What about business rates?
Yeah, it's one of the big issues facing high street businesses.
The government is constantly increasing these business rates faster than inflation and they're gong up 7-8% a year. They're completely smothering us with these taxes. The high street is going to be harder but we're trying to think of other ways of expanding.
Business rates would be 10-15% of your costs and are noticeable, once you count the VAT and employees charges. Government takes a lot from high street stores especially when you compare it to internet businesses, who operate from one venue outside London and often not paying VAT and hire fewer people.
How has trading been going recently?
In June and July we have been up 50% over last year. We sell half a ton of hummus a day on weekdays. By contrast, in our first day trading on a market stall, we were selling 10 kilos a day.
How are you planning to expand?
We'd consider franchising out but we'd need to be a bit bigger first. In terms of expansion here, we're working on London in particular and finding other ways into high street stores, whether it's focusing on supermarkets or pop-up ventures.
There's enough growth in just in London - not even talking outside London - to get on with. We're just in four locations but the capital is massive. We can do so much more. We're planning to do a recipe book and can focus on that too.