Panasonic has unveiled the world's first 4K TV which can show pictures at 60 frames per second.
Like all 4K TVs, Panasonic's futuristic set has four times the number of pixels as a standard HD screen.
But with double the frame rate the results are amazingly clear and crisp - and will one day make a great addition to your home, as long as you can afford it.
The tech giant unveiled its vision of a "cloud connected" home at the IFA tech conference in Berlin, alongside a range of other big announcements.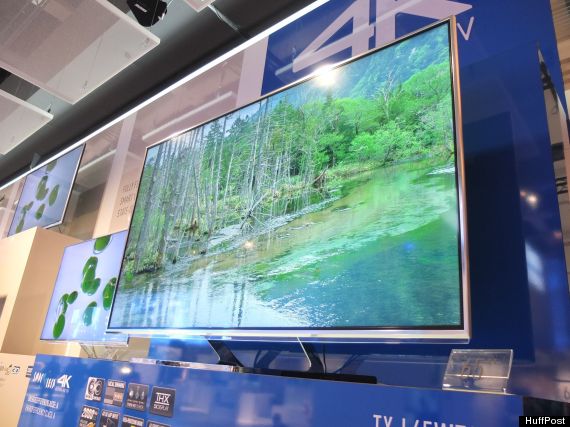 Above: the L65WT600
The L65WT600 'Viera' TV is a 65-inch Ultra HD set - and the world's first with a HDMI 2.0 input - capable of playing movies equivalent to the latest cinema releases, in your home. Until now 4K TVs have been limited to 30 frames-per-second, but the new standard lets TVs get up to 60FPS.
Impressions: a 4K which runs at 30P versus 60P might sound like a technical difference. But watch both side-by-side, and it's a revelation. Sports in particular look unbelievably clear and crisp at 60P, while in comparison they appear blurry and slow on a 30-frames-per-second set. It makes you feel bad for anyone who dropped thousands on a 4K TV before the HDMI 2.0 standard was unveiled. This is the future of telly. And it's pretty spectacular.
The new set has a DisplayPort 1.2a connector - making it easy to plug in a PC, which is ideal for gamers with very high-end gaming PCs.
Needless to say it carries a pretty heavy piece tag - at least £5,500 if rumours are to be believed.
Laurent Abadie, chairman and CEO of Panasonic Europe, said his company had spent €4.9 billion in research in the last 12 months - and said Panasonic's vision was to create the "fully connected world we all dream of".
The company said the new TV was a "thing of beauty" - and is the world's first Ultra HD TV with 4K 50/60Hz input.
The L65WT600 is also able to play 4K videos from a USB stick, YouTube and other streaming websites. It has a built-in HTML5 web browser, which can run powerful apps like Google Maps.
Panasonic showed off a stunning-looking 20-inch 4K tablet screen, which could bring a new level of picture quality to home PCs and tablet devices.
The company also outlined its vision of a connected home based on cloud services and voice recognition. Specific examples include a washing machine that knows the weather conditions, and can adjust how it washes your clothes based on that info.
In this futuristic home, your freezer would be able to chat to your TV, your microwaves to fridges - and alert you about their various workings throughout your day, wherever you are.