'Strictly Come Dancing' is back this Saturday (hurrah!), and HuffPost Entertainment was given a front row seat as Brucie, Tess and co filmed a special launch episode on Wednesday night, which saw the new batch of celebrities paired up with the professional dancers.
Not only did we enjoy spectacular routines from the pros, and an, errrm, interesting group dance from the celebs, as well as guest performances from Jessie J, Rod Stewart and reigning champ Louis Smith, we also got to have a good old natter with the new ballroom stars. Here's what we learned during our glamourous evening at 'Strictly'...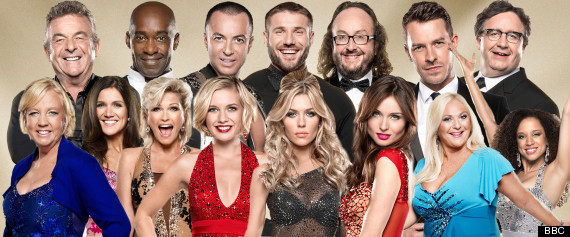 This year's 'Strictly Come Dancing' line-up
Sophie Ellis-Bextor admitted she is already tired of constant puns about her hit 'Murder On The Dancefloor', and wants to shake her thing to it in order to put a stop to them. "It's my own fault really," she said of the jokes. "I just hope I get to dance to it one week and then we can get it all out there. Hopefully it won't be my last week because that would be pretty pathetic, wouldn't it?" Her partner had better watch out.
Ashley Taylor Dawson's wife is expecting a baby the night before the first live show! But the 'Hollyoaks' star hasn't thought about what he's going to do if she goes into labour while he is on air. "Obviously I want to be there for the birth of my baby, but I've had a word with the missus and we're going to have it early," he laughed.
Professional dancer Brendan Cole admitted he is a fan of rival show 'The X Factor', and dismissed the ongoing rivalry with 'Strictly'. He told us: "I've always said this, I don't compare the shows. I do think 'X Factor' is a fantastic show and I enjoy watching it myself on occasion. But you've got two separate shows, so why chose? You can probably get something out of both of them."
Fashion designer Julien Macdonald is giving the wardrobe department a headache by trying to customise some of his fellow contestants' outfits. "I've become the fashion expert - all the girls, and even the guys, have been coming to me saying, 'what do you think of my dress?'," he told us. "I told Deborah to cut her sleeves off her dress and Vicky (in the wardrobe department) came up to me and said, 'can you not give everyone advice on their dresses, I've got a limited budget and I've got to change them all!'"
It also looks like we can expect fireworks between Julien and the judges too: "I watch the show and I never understand why all the celebrities just stand there and take a grilling from the judges," he said. " I'm not a shrinking violet so the thing is if they're giving me constructive criticism, I will take it. However, if they don't I will disagree with them and I'm not afraid of them." Could Craig Revel-Horwood finally have met his match?
Rachel Riley admitted she is such a big fan of the show she had a 'Strictly' themed 21st birthday party. "I had to sew sequins on my dress myself!" she said.
England footballer Peter Crouch was in the audience supporting his wife Abbey Clancy, and she revealed he could be following in her footsteps, as he would like to compete on the show. No robot moves allowed though, Pete!
The model and WAG also revealed her secret to staying so slim: "Through working hard and having a heavy child," she said. "I've just done a two day rehearsal - it's fun and you want to do it and you don't think of it as exercise. You definitely need to eat more and look after yourself."
Deborah Meaden quickly became our favourite celebrity when she told us she is a big fan of The Huffington Post *blushes*, before admitting she won't be afraid to bite back at the judges. "I'm usually very, very calm, but I have a feeling it may happen," she said. The 'Dragons' Den' star also revealed what happened when she told her fellow Dragons she was doing 'Strictly': "There was radio silence. They were stunned."
Ben Cohen has been receiving tips from rugby pals and former 'Strictly' stars Matt Dawson and Austin Healey, but has been getting a ribbing from his teammates about taking part. However, he's open to the idea of performing with his shirt off. Calm yourselves, ladies!
Susanna Reid spends most of her life on trains commuting from London to film 'BBC Breakfast' in Manchester, but she's found a way of killing time on her journeys. "Well, that train between London and Manchester has corridors about so wide, so we can do a few steps in those areas!" she laughed.
During Bruce Forsyth's 15 minute warm up of the crowd, where he also did an amazing Mick Jagger impression, he managed to squeeze in a dig about Simon Cowell's impending fatherhood. "What's this about Simon having a baby?" he said. "I've got six children, eight grandchildren and three great-grandchildren and I never get a look in!" Yes, Brucie's jokes have got no better, but we still love him.
Vanessa Feltz trotted off home pretty sharpish after the recording of the show, as she had to be up at 4am to host her Radio 2 show.
We can confirm that reigning 'Strictly' champ Louis Smith is still an amazing dancer, returning to the show to give a performance of his charleston routine with partner Flavia Cacace.
There are five seriously hot new professional dancers this year. Iveta Lukosiute, who stepped in to replace an injured Aliona Vilani last year, stars of 'Burn The Floor' and real-life couple Aljaž Skorjanec and Janette Manrara, fiance of current pro Karen Hauer, Kevin Clifton, and Ayna Garnis, who competes professionally with Pasha Kovalev.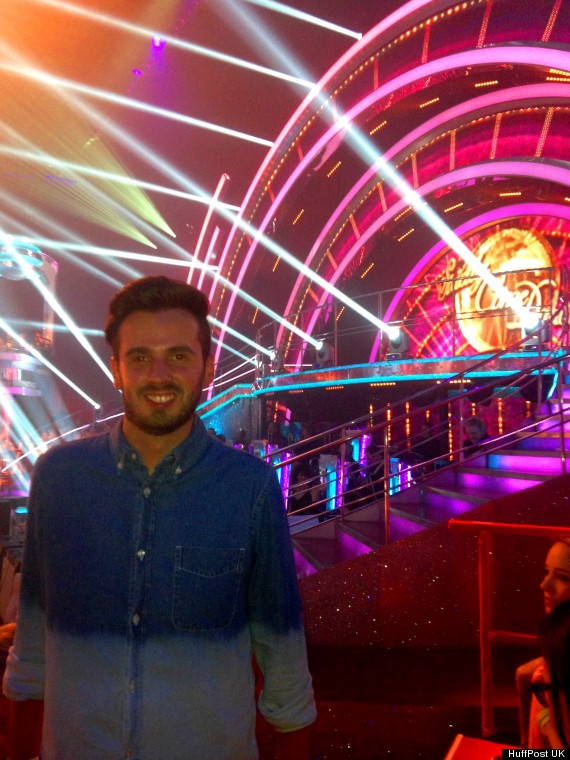 HuffPost's Ash hits the dancefloor at the 'Strictly' studios
The show has got a new home, leaving the BBC Television Centre in west London after it closed earlier this year. It is now filmed next to the Big Brother house at Elstree Studios, on the stage where the Star Wars movies were shot back in the 1970s.
The 80 minute launch show took nearly four-and-a-half hours to film, with many of the dances and guest performances being shot two or three times. We loved every minute of it!
Find out who is partnering who this year on the 'Strictly Come Dancing' launch show, airing Saturday at 6.50pm on BBC One.
LIKE US ON FACEBOOK | FOLLOW US ON TWITTER