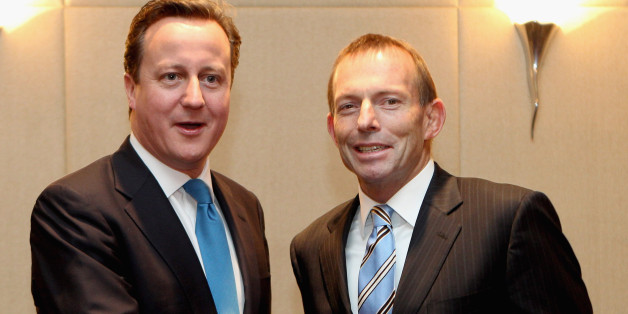 Getty
David Cameron has called Australia's new Prime Minister Tony Abbott to congratulate him on his election win.
The Tory leader said how it will be "great working with another centre-right leader."
An easy victory for Abbott's Liberal-National coalition ended six years of Labor rule after a campaign in which he pledged to boost a flagging economy and axe a controversial carbon tax.
Outgoing prime minister Kevin Rudd - who ousted Julia Gillard just months before the poll - has already said he would step aside as Labor leader.
READ MORE:
But British politicians have had mixed reactions to Abbott's victory.
While Tory MP Douglas Carswell seized on Abbott's win to urge Cameron to adopt similar policies, Labour MP Paul Flynn branded the new PM a "bigoted air-head."
"I'm loving the way that the centre right in Australia have modernised - and won. Ought to inspire Conservatives here in UK!" Carswell wrote on Twitter.
"Abbott won offering lower taxes, less immigration, an end to obsession with CO2 and less foreign aid. Go figure.
"Abbott's views are thoroughly modern. He seems to have seen through global warming fad, wants less government and is pro Anglosphere."
Flynn was less complimentary, posting: "Oz has elected a bigoted air-head to drag them backwards into mean prejudice and vainglorious chauvinism."
Similarly, fellow Labour MP Tom Harris said: "I'm sure that in terms of attitudes to women, new Australian PM Tony Abbott will bring his country roaring into the 1980s."
Among other controversial statements, Abbott once said: "Abortion is the easy way out. It's hardly surprising that people should choose the most convenient exit from awkward situations."