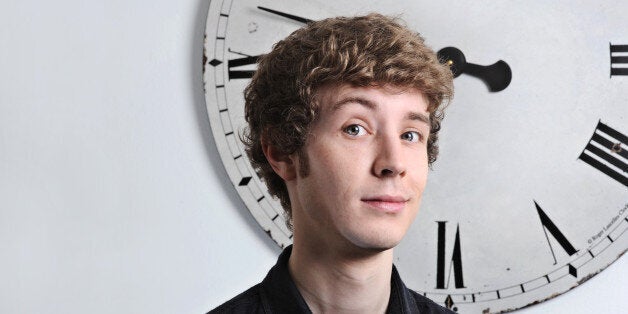 Huffpost has been putting Radio 1 DJ and presenter Matt Edmonson through his paces recently.
We set Matt and fellow presenter Zoe Salmon a series of challenges to discover the reach of O2's innovative new TU Go app, which frees your O2 number to work on any compatible device (think phones, tablets and PCs) and even allows you to make and receive calls and texts over wifi, allowing you to stay connected to those that matter most.
We caught up with Matt to find out how he uses the latest tech to stay in touch. We also found time to talk apps, romantic phone mishaps and the wisdom of our four legged friends.
What upcoming bits of technology are you excited about?
Well, if Back To The Future is to be believed we are just a few years away from a hover board. Other than that I am excited about the new iPhone. Every time they release a new one I think "what on earth can they add to it this time?". My guess is a slot for a single slice of bread so that you can have toast on the go.
What are your 5 favourite apps?
City Mapper- tell it where you want to go in London and it plans how best to get there using all transport available!
Sky +: I can record telly from my mobile phone. It's like living in the future!
Light: it's a torch, on your phone. Ideal for helping pick up dog poo from the garden late at night (we all need a hobby)
Who is the most famous person in your mobile?
Zoe Salmon of course... Well, I do have the number of Abz from 5ive in my phone- he may not be the most famous, but had you told a 12 year old me that, I'd have been very excited.
What's the worst phone-related faux-pas you've made?
Years ago I once asked a girl for her number after we got chatting on a train. I was so chuffed with myself that I immediately texted my sister saying "can't believe it, just chatted up a really fit girl on the train" and then accidentally sent it to the girl who, seconds before, had given me her number. Needless to say, I didn't hear back.
If you could recommend one person to follow on Twitter, who would it be?
It would have to be @accidentalP - they retweet tweets from famous people that sound like the sort of thing Alan Partridge would say.
Can you see yourself rocking any wearable tech – Google Glass, smart watches etc?
I have not worn a watch since as a child I purchased a "James Bond" watch from Argos. I've seen a fair few Bond movies where his watch has come to the rescue with all sorts of amazing gadgets so I was looking forward to firing lasers/using it as an electromagnet/having video calls on it. When I unboxed it, it turned out to be a normal digital watch that played a high pitched midi of the James Bond theme tune. Very disappointing. So, if they can replicate an ACTUAL James Bond watch, I'll consider it.
You're a married man now. Can you see technology contributing to a harmonious relationship?
Absolutely- if I'm away for a day or two working then I always get on Skype and have a chat to my wife, and more importantly, our dog. Also, thanks to things like Netflix we have an unlimited amount of box sets to snuggle up on the sofa and watch.
How do you and your wife connect when you're apart?
We use video calls, and in a recent trip to Portsmouth where I had no signal, I even used TU Go (having been introduced to it via the challenges I'm doing for O2!)- we also text a lot and email each other endless photos of our dog.
What are your pet peeves when it comes to gadgets?
Battery life. I get through my phone battery everyday by about 3pm- I just wish it would last longer! When they finally crack a battery that you only need to charge once a month, it will be amazing.
Are there any bits of tech you wish you had invented, or that still need to be invented?
I dream of a day where you have a machine in your house that prints physical objects- I know they're getting there with 3D printers, but imagine of you could order something from Amazon and it would then ping into existence in your house? Also, can someone please hurry up and invent teleportation?
You have a dog. O2 are all about "being more dog". What could you learn from your pooch?
You can learn to take everyday as it comes and not think about the future, to get excited by small things, to let those around you know you love them and are delighted to see them and to not roll in fox poo because it stinks.