Michael Le Vell, the Coronation Street actor, was today found not guilty by a jury of child sex offences following a trial at Manchester Crown Court.
Le Vell, 48, cried in the dock and hugged his family, ITV reported.
But once outside in front of TV cameras he looked relaxed and pleased in his light grey suit and pink tie. He even joked: "I might go and have a drink now."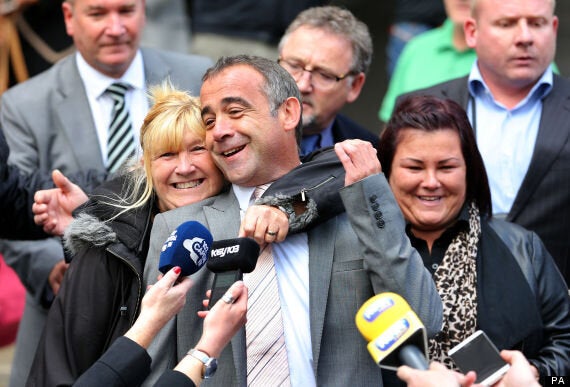 Coronation Street actor Michael Le Vell hugged by his sister Sue outside Manchester Crown Court after he was cleared of child sex offences.
Asked when he would return to the popular soap, he said: "I might have a holiday first. I'll have to go and have a chat with my boss."
His accuser, who cannot be named for legal reasons, was not in court to hear the verdicts but the "bubbly, lovely, naive" youngster had earlier sobbed as she claimed Le Vell, known to millions of TV fans as the soap's Kevin Webster, raped her as she clutched a teddy bear.
But the defence argued that it was a "strange case of child rape" that didn't add up, and said the prosecution's case was a "hall of mirrors".
During the court case the private life of Le Vell has been laid bare, including revelations of his heavy drinking and adultery.
Before any evidence was heard, Manchester Crown Court was told the man in the dock before them was not Coronation Street's genial car mechanic Kevin Webster.
Appearing under his real name of Michael Robert Turner, the Crown suggested to him that far from being "Coronation Street Kevin" he was in fact a "troubled man" who had raped and sexually assaulted a young girl.
Le Vell responded that it was true he was an alcoholic and a serial philanderer who even cheated on his wife while she was undergoing chemotherapy for breast cancer. But what he was not was a child abuser, the court heard.
Irregular working shift patterns with many free days and nights, coupled with plenty of spare cash, Le Vell confessed he would hit the pub throughout his career and his 25-year marriage to actress Janette Beverley.
Le Vell explained: ''I have a working class mentality. I'm a bloke. After work I want to wind down for a hour or two.
''I know it sounds chauvinistic but that is how I was brought up.''
It was not the odd pint or two before tea though but seven or eight pints a session, he said. He recognised he had a drink problem and had twice attended Alcoholics Anonymous but concluded "it's not worked out for me".