Prince William is looking to expand his interests in conservation and endangered animals after finishing his seven-and-a-half-year stint as a search and rescue helicopter pilot.
William was widely expected to leave the military and return to London with Kate and baby son Prince George rather than opt for another tour of duty with the RAF.
As he will one day be king, his future is dictated to a large degree and he has to prepare himself for that role.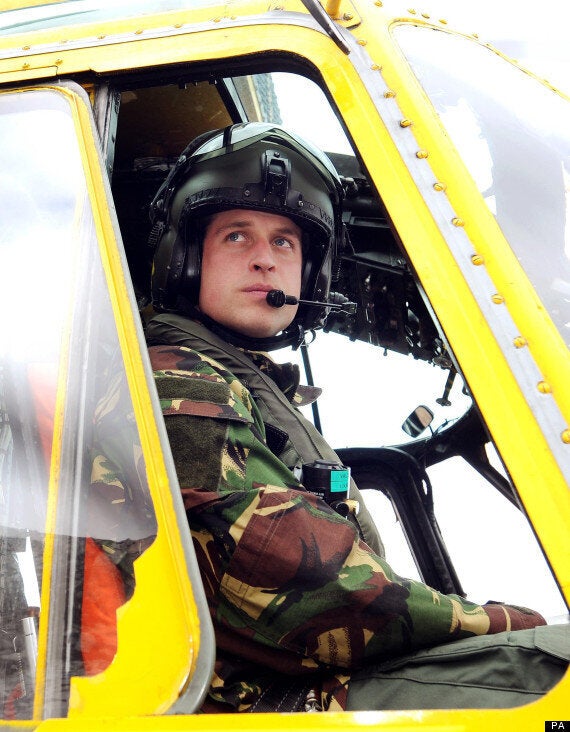 The Duke of Cambridge, who was known as Flight Lieutenant Wales in the air force, carried out his last shift on Tuesday
During his three-year tour he took part in 156 search and rescue operations, with 149 people being rescued.
The Duke will continue to carry out royal engagements but is not expected to increase his number of public duties.
The second in line to the throne is in a "transitional" year, sources have said, and is considering options for his "public service", an announcement will be made about his decision within the next 12 months.
Kensington Palace said in a statement: "His Royal Highness The Duke of Cambridge is to leave operational service in the Armed Forces.
"He completes his Tour with the Royal Air Force Search and Rescue Force at RAF Valley, Anglesey, after more than seven-and-a-half years of full-time military service.
"He will continue to support the work of the Queen and the Royal Family through a programme of official engagements, both at home and overseas, with The Duchess of Cambridge.
"The Duke will work closely over the next 12 months with the Royal Foundation of The Duke and Duchess of Cambridge and Prince Harry. He will expand his work in the field of conservation, particularly in respect of endangered species.
"The Duke will continue to work with his charities on issues relating to children and young people, veterans and serving members of the Armed Forces.
"The Duke is currently considering a number of options for public service, a further announcement on which will follow in due course.
"The Duke and Duchess of Cambridge and Prince George are expected to move into their official residence at Kensington Palace within the next few weeks."
William said: "This island has been our first home together, and it will always be an immensely special place for us both. Catherine and I look forward to returning again and again over the coming years with our family."
With the birth of George in July, the Cambridges are now a family unit and will soon move into their refurbished Kensington Palace apartment.
It will be their main home but the royal couple are also expected to move into their country retreat, Anmer Hall, on the Queen's private Sandringham estate in Norfolk, later this year.
The head of the RAF, Air Chief Marshal Sir Andrew Pulford, praised the Duke's work in the air force.
"Throughout his tour his airmanship, often in the most demanding of conditions, has contributed directly to saving lives in the mountains of North Wales and from the ravages of the Irish Sea.
"He has earned the respect of all who have worked with him as a highly professional and competent pilot."