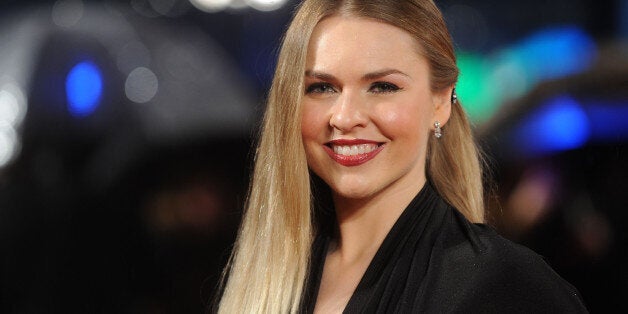 TV presenter Zoe Salmon is used to taking on a challenge. From Blue Peter, to the Dancing on Ice arena and the heat of the Celebrity Masterchef kitchen, Zoe has demonstrated her ability to master new skills and show no fear.
So, Huff Post was delighted when Zoe took up our own mission to test out the new TU Go app from O2 with fellow presenter Matt Edmonson.
TU Go frees your O2 mobile number to work across multiple compatible devices, from your tablet to your PC, and lets you send and receive calls and texts over Wifi, helping you to stay connected when it really matters.
We may have sent Zoe to the top of the O2 Arena and the depths of a basement recording studio for her challenge, but where does she find it most important to stay connected? We caught up to talk essential travel apps, inventions and that famous number on her phone...
What upcoming bits of technology are you excited about?
The smartphone watch, I love it when technology meets fashion! Also, I'm extremely excited about the waterproofing of smartphones and tablets etc. I keep seeing this on science programmes and on the news - it's like a magic trick! It will save us all a lot of money, stress and hassle whenever it hits the market as dropping our handsets down the toilet will never be a problem again!
Finally, although I've only had my Apple iPhone 5 for less than a year, I cannot wait to get my hands on a 5S! The 5S introduces a fingerprint sensor built into the phone's main button to identify the user. It all feels very James Bond!
What are your favourite apps?
I am a huge fan of WhatsApp as I send MMS more often than SMS and because it's all free, I save a small fortune.
Due to my love of sending MMS I have hours of fun on Diptic editing my photographs and including text too. I am rather partial to a good filter!
Like most people I love a bit of social networking and my favourite is Twitter. I use Echofon as I find it the most accessible and convenient to use.
As I'm always flying around the globe, I'm always on the Skyscanner app. It's amazing because I can easily look up flights and compare options. All the information I need is there, simples!
Who is the most famous person in your mobile (and would they return your call?)?
Russell Brand from when we filmed together in his Hollywood movie Get Him to The Greek. And of course... ;-)
What's the worst phone-related faux-pas you've made?
Texting the wrong person!
If you could recommend one person to follow on Twitter, who would it be?
@actioncancer I'm very proud to be a patron of this incredible charity. Action Cancer works to save lives and support people across Northern Ireland affected by cancer.
What do you mainly use Twitter for?
To update my followers on what I'm up to :-)
Can you see yourself rocking any wearable tech – Google Glass, smart watches etc?
I would love to try both. The Google Glass looks slightly odd but I just know that in a few years time it will become as standard as wearing a pair of glasses.
You travel a lot – what are your key travel gadgets? How do you stay connected when you're on the move?
I can't travel without my iPad, Vaio laptop and and iPhone.
Can you see technology contributing to a harmonious relationship?
I think technology can be both a help and a hindrance to any friendship or relationship. Yes it's an extremely easy way to keep in touch with friends using your smartphone to text, Facebook etc. But it's as easy to send that friendly message as it is to send that drunken one! And THAT is the problem!
What are your pet peeves when it comes to gadgets?
It's got SO annoying that it's now got its own name - phubbing i.e. anti-social phone use! Which is exactly what I'm doing now (I'm at a family birthday party!!!).
Are there any gadgets you wish you had invented, or that still need to be invented?
Bluetooth cameras would be incredible so I that I can instantly get photographs from friends/family's cameras onto my handset or other devices without the need for any cables.
O2 are all about "being more dog". What sort of dog would you be? And if you were a dog for a day what would you spend it doing?
I am generally scared of dogs! I would rather be a rabbit! Monochrome ones are the cutest! I think O2 should be more rabbit.