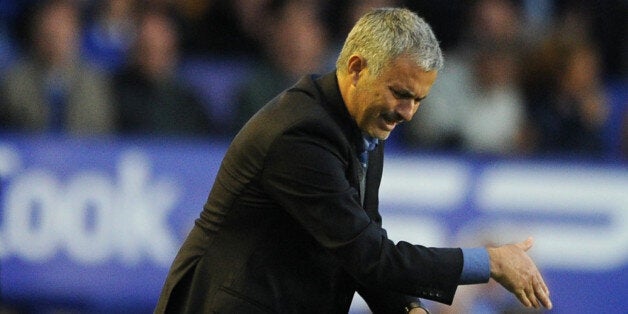 So after 15 goals in nine games some are pining for international football again. Well, it wasn't quite that bad, but the Premier League has begun as languorously as The Hobbit.
Here are five talking points from the weekend's football...
PREMIER LEAGUE REGRESSION CONTINUES
Despite BT Sport's best efforts during their execrable coverage of Manchester United-Southampton, the weekend's football began dismally and ended similarly with Southampton and West Ham's goalless draw. Sky must grant each team a minimum amount of televised matches, but Southampton-West Ham? It's easy to make this statement now, but had all the ingredients for a goalless encounter.
Cristiano Ronaldo's contract renewal isn't just bad news for United supporters. Since he left England for Spain the quality in this country's top flight has dipped significantly. It was hoped José Mourinho's return would halt the regression yet Chelsea's plethora of attackers are yet to distinguish themselves at this admittedly early stage.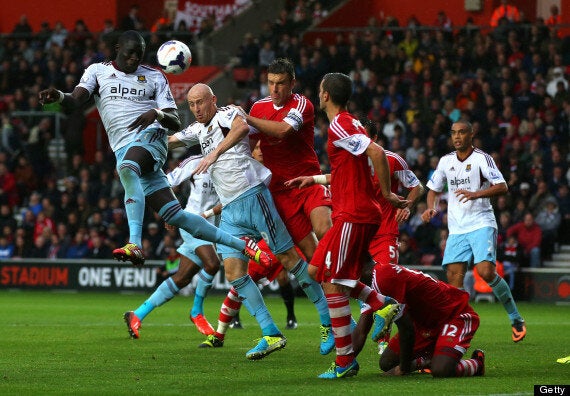 "An outstanding game of football," Roy Hodgson might have said
The goals per game average after four rounds of Premier League games over the last few seasons reads thusly: 08/09 = 2.93, 09/10 = 2.47, 10/11 = 2.88, 11/12 = 2.41, 12/13 = 2.90 and 13/14 = 1.90. That significant drop has given the league a Serie A mid-90s complexion in an age when ticket prices have never been so high and the commercialism never so rampant. Gallingly for Richard Scudamore, underachieving Arsenal are the most entertaining side, as if to advertise the worst opening since Quantum of Solace.
MOYES WON'T REPEAT UNITED'S POGBA MISTAKE
Perhaps it was the sight of a new central midfielder for the first time in six years, or that Manchester United belatedly signed someone under David Moyes, but Marouane Fellaini's introduction sparked a more penetrative approach from the pedestrian champions against Crystal Palace.
There was arguably a more significant league debut in the guise of Adnan Januzaj, though. Another Belgian, the teenager's introduction was a bold move by David Moyes, and signalled United will not make the same mistakes they did with Paul Pogba.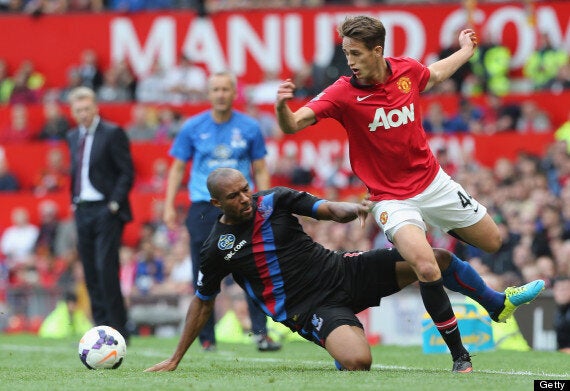 United have high hopes for Januzaj
Had United offered Pogba a suitable contract their midfield malaise would not quite be so severe. His departure at the end of the 2011-12 season was inevitable when, in the space of a week, Ji-Sung Park and Rafael da Silva started ahead of him in midfield and Paul Scholes came out of retirement. Some United fans risibly suggested Pogba was less impressive in reserve matches than the workhorse Ryan Tunnicliffe, as if such mundane fixtures are a reliable barometer of a youngster's progress. Tunnicliffe has since been banned from driving for 18 months for drink-driving and Pogba has won a Scudetto with Juventus and become a full France international.
United plan to offer Januzaj, one of the highlights of their pre-season tour, a new long-term contract to stave off the hovering vultures. He turns 19 in February, the same age Pogba was when he left, and his current deal runs out next year. Moyes' early displays of faith should spur Januzaj to stay, though, whereas age and sentimentalism blinded Sir Alex Ferguson's handling of Pogba.
EVERTON EXPOSE FRAIL CHELSEA
For a manager whose outstanding seasons have included a near-impregnable back five it is surprising José Mourinho did not shore up Chelsea's susceptible defence in the summer. Centre-back and central midfield were the areas of concern from just a quick glance at Saturday's line-up at Everton and although only one goal was enough the Toffees might reflect they should have scored more.
Chelsea should feel that way too, after a profligate first 45. They were too frivolous in the final third and too arrogant in thinking their backline could repel any threat Everton offered. The obvious problem, oddly for a Mourinho ensemble, it is an unbalanced squad. Defensively, they are too dawdling and disjointed and there is not a competent defensive midfielder to shield the back four.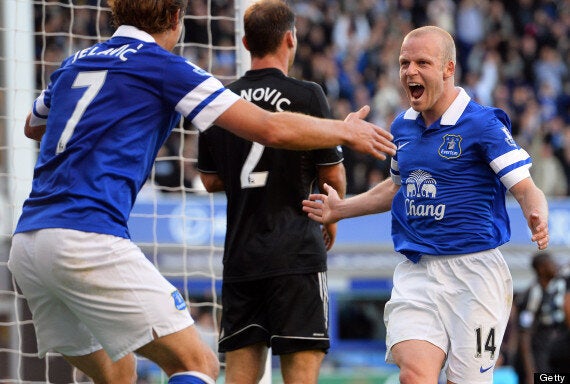 Steven Naismith, like Titus Bramble, has scored a winner vs Mourinho's Chelsea
Usually, Mourinho teams chasing a game are relentless, but Saturday was the exception. Everton actually got stronger in the last third of the contest and had some of their best chances, as they capitalised on some ineffective Mourinho substitutions.
WALCOTT MUST START EARNING WAGES
Can it be a coincidence that Theo Walcott's most prolific spell for Arsenal came during contract negotiations? Since the England forward was granted a pay rise in January he has scored seven goals in nine months for Arsenal.
He has monotonously aired his preference for starting up front, but playing on the wing does not legislate for the plethora of one-on-ones Walcott squandered at Sunderland and Mesut Özil's arrival could, ironically, be bad news for him. Olivier Giroud has, so far, made a mockery of Arsenal's summer flirtation with Gonzalo Higuaín and with Santi Cazorla a certain starter when fit the axe is could fall on Walcott.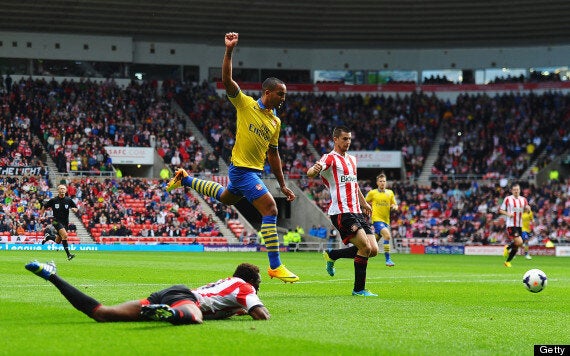 Walcott: "one of the most brainless footballers ever to have existed"?
He was described this week, with some justification, as "one of the most brainless footballers ever to have existed" following his performance in Kiev. At 24, Walcott still plays with the unperceptive enthusiasm of a teenager, albeit with the arrogance of a veteran. Bizarrely, he is the longest-serving Gunner in Wenger's squad, which highlights what a lost cause he might be for Arsène Wenger.
PELLEGRINI YET TO GET TO GRIPS WITH AWAY DAYS
That Stoke were the superior side in their goalless draw with Manchester City was not a surprise considering how under-strength the visitors were: Fernandinho, Sergio Agüero, Jesús Navas and Edin Džeko were sat on the bench while David Silva was injured. Stevan Jovetić and Alvaro Negredo, two novices, started but were deprived of any significant creativity from Samir Nasri and James Milner as even Jack Rodwell played.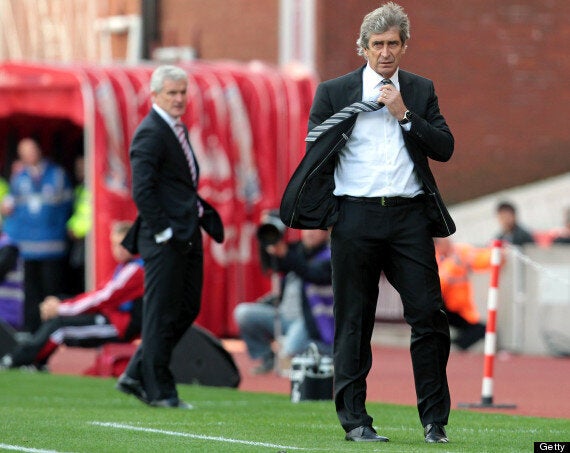 Pellegrini has experienced an ambivalent start with City
With City's first Champions League game at Viktoria Plzen on Tuesday, Manuel Pellegrini chose to prioritise a first win in the competition for the club since December 2011 ahead of defeating a team who have not lost to City at the Britannia Stadium. Saturday was the teams' fifth successive draw at the Potters' ground in the league and City's seventh without victory.
City boast the strongest squad in the league but such excessive tinkering could jeopardise any consistency, especially when Pellegrini has no experience of a European title win and is a fledgling compared to his Premier League peers. For all his La Liga wisdom, Mark Hughes outthought him for 90 minutes.