The method is the first of its kind in the UK, and the operation took place at Stepping Hill Hospital in Stockport, Greater Manchester.
Over 9,000 people in the UK are diagnosed with renal cancer, according to the NHS, and surgery is usually the most common method of dealing with it.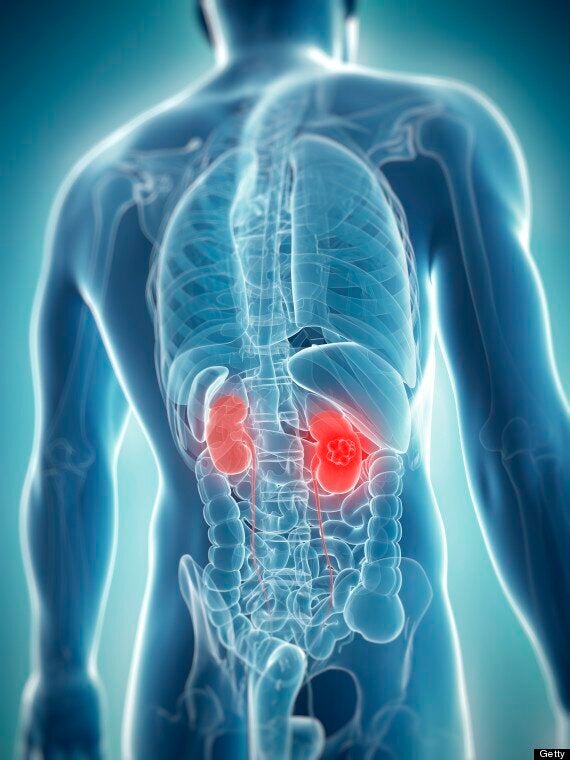 The new surgical method uses a fluorescent green dye to highlight the healthy part of the kidney as well as the healthy blood vessels.
This improves the surgeon's ability to see the entire cancerous tumour, enabling complete removal through keyhole surgery, and saving as much healthy kidney tissue as possible, says the hospital.
Surgeons Steve Bromage and Neil Oakley carried out Friday's operation on patient Robert Holt, from Denton, Greater Manchester.
The three-hour operation was a complete success and Mr Holt was due to go home today, said hospital chiefs.
Married grandfather Mr Holt, 77, was diagnosed with kidney cancer earlier this year.
He has been a swimming head coach for more than 20 years and continues to work full-time.
Mr Holt said: "I have a very practical approach to everything in my life and that includes my feelings about being the first person in the country to have this operation.
"I was surprising relaxed about the operation and certainly not worried about it being on Friday the 13th.
"I had total confidence in the doctors at Stepping Hill Hospital and simply want to be able to get back to the day job."
KIDNEY CANCER: THE SYMPTOMS

These can include:

A constant pain below your ribs

A lump in your abdomen (tummy)

Source:NHS.UK
Consultant urologist Steve Bromage said, "This is a significant advance. The new cost-effective technique helps surgeons preserve as much kidney function as possible while still removing all the malignant tissue.
"The dye clearly shows the boundaries of the cancerous tumour in just seconds, giving surgeons a quick and safe way to definitively mark the margins of cancerous tissue.
"This allows us to spare as much healthy kidney tissue, and kidney function, as possible. Sparing even a little bit of kidney tissue, that we might have otherwise taken out, is a very good thing."
The dye used in the operation is called Indocyannine Green (ICG).
The hospital plans to undertake more operations using this technique over the next few months, before presenting the results at a national conference.