The director of the new film documenting Stephen Hawking's extraordinary life admits that the most embarrassing moment came when he had to tell the world's most famous scientist about his own meagre qualifications.
"Maths and physics, CSE Grade 3," admits 'Hawking' director Stephen Finnigan. "Showing that to Stephen was my own black hole. Not only that, but physics leaves me cold."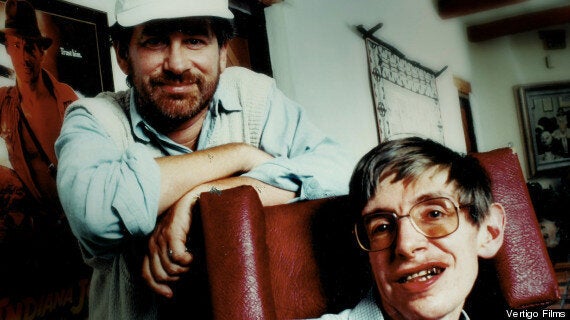 Stephen Finnigan was embarrassed to present his own scientific achievements to the world's most celebrated cosmologist, pictured here in the 1980s with another director called Steven, in this case Spielberg
Despite this inauspicious conversation, Finnigan has constructed a remarkable film, with Hawking recounting his own journey, both through the echelons of academia with his work on black holes, the big bang and the universe, and through the personal challenges presented by his incapacitating illness, which means he can only communicate by prompting his electronic voice with minute cheek movements.
This must have made for some challenges when it came to constructing the film, which director and subject did together...
"It's never normalised," Finnigan agrees. "You can't just say, 'Hi, how are you?' to each other.
"Stephen is a communicator, so it must be very frustrating for him. I think, as his ability to communicate has decreased, so his desire to express himself has increased.
"It can take him half an hour to write two sentences. But nothing is too much hassle, if he's decided a task is worth doing, he will commit himself entirely to it."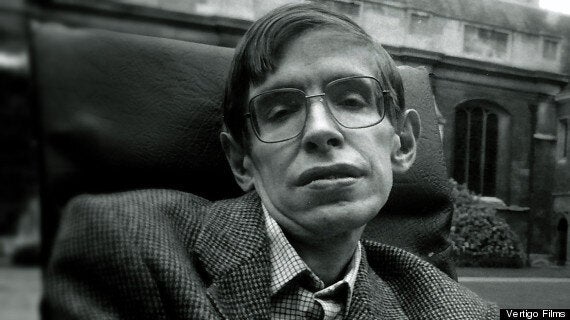 "As his ability to communicate has decreased, so his desire to express himself has increased"
If such determination is one of Hawking's personal qualities that stands out for Finnigan, the other is his sense of mischief.
It's seen one of the world's most cloistered academics opt to appear on 'The Simpsons' and be caught on film, driving over actor Jim Carrey's foot with his electronic chair.
"People are in awe of Stephen," reflects Finnigan. "He speaks, they listen, like he's some type of oracle. I wanted to show another side... less myth, more mischief."
Hawking has been married twice. While his first wife Jane, the mother of his three children, appears in the film to very appealing and moving effect, his second wife Elaine from whom he was divorced in 2007, is noticeably absent. Whose decision was this?
"I wanted Stephen's nearest and dearest in the film, those who've had the biggest bearing on his life," explains Finnigan.
"Jane took a little bit of persuading, and his children decided not to contribute. Stephen contacted everyone himself, and Elaine didn't want to take part.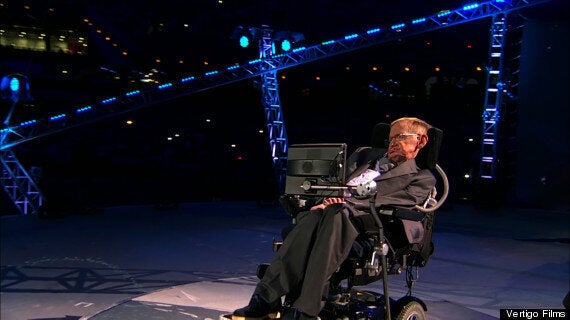 Stephen Hawking anchored the Paralympic Games Opening Ceremony in London 2012
"This was a difficult area for him to talk about, but I left it to him to write that chapter, which he did calmly."
Hawking may have been left bemused by his director's scientific prowess, but his film met with a far more emotional response.
"We watched it together for the first time," remembers Finnigan. "I sat behind him, petrified. He didn't say anything, but I saw a tear trickling down his cheek - it was a magical moment.
"And afterwards, he said to me, 'I really liked it, but I don't know if anyone else will.'"
'Hawking' will debut at the Cambridge Film Festival this Thursday 19 September, with live streaming across the country. Find out how you can view the film, and submit a question for the filmmakers, by clicking here. 'Hawking' goes on release on Friday 20 September. Watch the trailer for the film below...
Popular in the Community