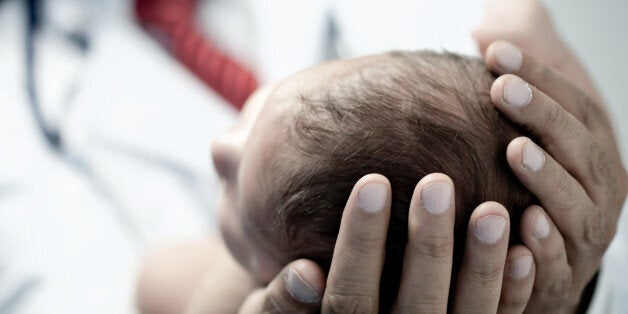 A primary school teacher got her baby son's education off to an early start - by giving birth to him in a classroom.
Diane Krish-Veeramany, 30, went into labour a week before she was due while working at Manford Primary School, in Chigwell, Essex.
Three colleagues acted as improvised midwives to help deliver her second child, Jonah, after she came out of a morning meeting.
The proud mother told the BBC: "We now joke that he was late for his first day at school as he was born after the bell.
"The school have named the room he was born in after him - it's now called Jonah's Room."
Feeling the first pangs of labour, Mrs Krish-Veeramany called for her husband, Vijaye Veeramany, to come and pick her up.
Twenty minutes later she had delivered the baby with the help of teaching assistants Dita Gojnovci, Chris Sword and Sam Mustafa.
One was on the phone to Mr Veeramany, another spoke to the hospital, and a third to an ambulance.
Mrs Krish-Veeramany was taken by paramedics to Queen's Hospital, in Romford, and later allowed to take Jonah home.
She said she had been planning to finish work on Friday before taking a week off ahead of her due date.
Fran Goodwins was part of the ambulance crew which attended the school after being called out at 9.04am.
She said: "We arrived on scene just after the baby was born, checked mother and baby over and both were well.
"We're absolutely delighted for the family and that we were able to play a small part in such a happy occasion.
"Everyone at the school was extremely excited."
Popular in the Community