Saif al-Islam Gaddafi, the son of the late Libyan dictator Colonel Gaddafi, has made a rare appearance since being captured by rebels nearly two years ago.
The "playboy" son of Muammar Gaddafi was snapped appearing in court Zintan, west of the capital Tripoli, on security charges, Al Jazeera reported.
Looking pale and thin, Saif reportedly stayed silent during the five minute hearing. It is the first time Saif has been pictured since his capture
The Daily Telegraph quoted a prosecutor outside the court, who said Gaddafi, along with a string of other senior former regime figures faced charges including "inciting violence and rape, organising armed gangs, kidnapping, drug dealing, torture, and hiring mercenaries."
Saif is also being tried on separate charges of harming state security, attempting to escape prison and insulting Libya's new flag. Saif al-Islam appeared pale and thin
Amnesty has urged Libya to surrender Saif to the International Criminal Court (ICC) for alleged war crimes committed during the Libyan revolution in 2011.
Saif has been held by a militia in the western town of Zintan since his capture in November 2011.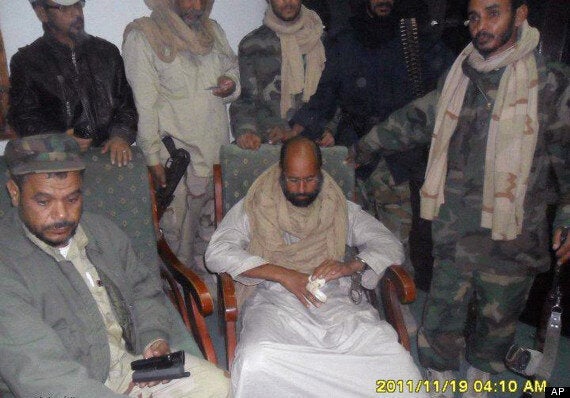 Saif al-Islam was captured by rebels in November 2011
He was initially caught, unshaven and covered in sand, in the desert town of Ubari, with reports suggesting he was trying to flee the country.