Coca-Cola has had to cancel a Canadian promotion after outraged consumers opened bottles to messages including "you retard," and "douche."
The disastrous campaign paired randomly generated English and French words inside bottles, with unfortunate results.
Shannon Denny, director of brand communications with Coca-Cola Refreshments Canada, said consumers were supposed to collect the caps to combine words into humorous sentences, The Globe And Mail reported.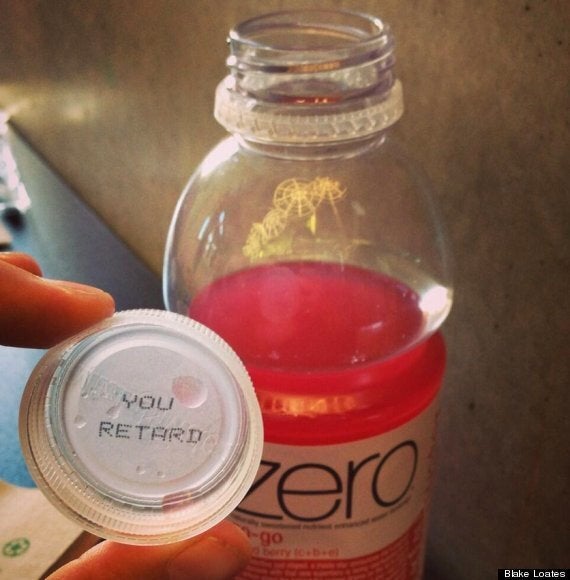 Anglophones would use the English words and francophones would use the French ones, she explained to the paper.
But, taking a sip from a seemingly-inoffensive bottle, Blake Loates, from Alberta, Canada, was shocked to find the words "YOU RETARD" printed inside the cap of Vitamin Water.
"We thought it might have been a disgruntled employee or someone in a (bottling) plant playing a joke."
Now, in addition to cancelling the campaign, Denny said the company will destroy all of the caps with words printed on them.
She said Coca-Cola was still deciding how to deal with the printed caps that are already on bottles.
Coca-Cola has had to apologise to an outraged family after an insulting message was discovered underneath the cap of one of its drinks.
Loates' father, Doug, was especially horrified by the offensive message, as his younger daughter Fiona has cerebral palsy and autism.
"My dad had taught our family what an awful word the 'r-word' is. So he was really upset about this."
"That word is forbidden from my parents home," Loates said. "It's equivalent to the 'N' word."
Doug, who lives in Washington state, stayed up all night penning an angry letter to Coke.
The company has since apologised to the family.
Popular in the Community