During Fernandinho's unveiling earlier this summer Manuel Pellegrini was asked about the importance of the Manchester derby. The City coach had faced United four times in the Champions League, with each match a scoreless draw. He acknowledged "the most important thing for City fans is to beat United".
"I also played United twice with Villarreal in the Champions League, in 2006 and 2009," he said before delivering the zinger. "And both times we qualified for the last 16 and they didn't."
Only Pellegrini was wrong on two counts. Villarreal actually faced United in 2005 and 2008, and although Sir Alex Ferguson's side bowed out at the group stage in the first year they actually finished above Villarreal in the 2008 group stage.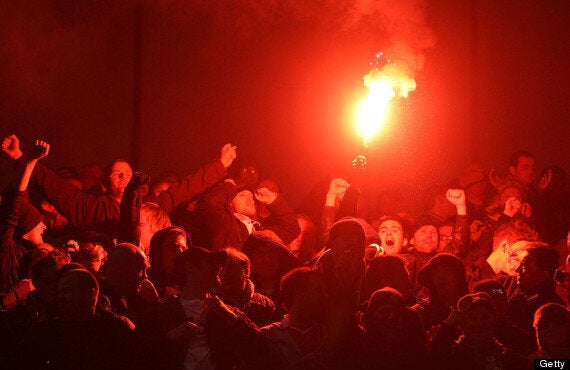 Don't go out tonight, unless you're red and white: United fans at City in 2010
The Chilean had unsuccessfully attempted to ingratiate himself with some of the supporters who chanted, "You can stick your Pellegrini up your a**e" at the FA Cup final, so smitten were they with Roberto Mancini. Little fuss was made of it in the summer of Bale, Rooney and Suárez, though.
Pellegrini wasn't the first to have a dig at United. Within two minutes of his first press conference Edin Džeko informed the media, "I hear a lot about the fans - that most of the people from Manchester are Manchester City fans" and Patrick Vieira accused United of "weakness" for bringing Paul Scholes out of retirement the season before last. "I think he [Vieira] was programmed for that," opined Ferguson on the "small club with a small mentality".
However debatable the merits of Džeko and Vieira's opinions, they were not as dubious as Pellegrini's. He has struggled to convince and the ambivalent opening has prompted the Mancini loyalists to question him before the first leaves of autumn have fallen.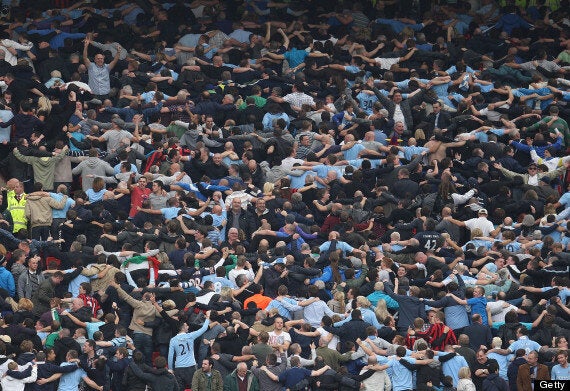 City fans enjoy beating United 6-1 in 2011
For City's starting XI at Stoke Pellegrini benched Sergio Agüero, Džeko, Fernandinho and Jesús Navas, as he prioritised Tuesday's Champions League opener at Viktoria Plzeň. Pellegrini had underestimated a side City have not won at in seven badly and was fortunate to emerge with a point. Gallingly, he had been out-thought by Mark Hughes, who is about as popular at Eastlands as Terry Christian.
Ahead of Pellegrini's first Manchester derby, the sense of anticipation is but a fraction of last year's corresponding fixture when Robin van Persie consigned City to a fifth stoppage-time defeat in four seasons. The ease of United's Premier League title win, the earliness of Sunday's fixture and the absence of firebrands Ferguson and Mancini on the touchline have diluted the significance this weekend.
Though David Moyes looks like he could administer a brutal Glasgow kiss, he is generally diplomatic on the touchline, with the exception of squaring up to Mancini three-and-a-half-years ago. Mancini was Ferguson's only notable exchange with an opposition manager, too, on the night the Scot made one of his costliest selection errors to gift City the initiative in the 2011-12 run-in. This fixture will miss Ferguson's temper and soundbites, but Mancini's absence will also be keenly felt.
As if it needed underlining, City's draw at Stoke highlighted Pellegrini's lack of experience in comparison to Moyes. City fans have mocked the Scot's appointment at Old Trafford and benefitted from a £90 million + spending spree, with most of the business concluded before pre-season. But one of the obvious benefits of United choosing Moyes is his experience of English football and knowledge of derbies, wheras Pellegrini is playing catch-up.
Unlike at Old Trafford, Anfield, the Emirates Stadium and Stamford Bridge, Moyes won at City with Everton on multiple occasions, which rids him of that big-game stigma. After a cautious start United have begun to take shape under their new manager, starting with Adnan Januzaj and Marouane Fellaini's introductions at Crystal Palace a week ago and continuing with a clinical performance against Bayer Leverkusen.
Ferguson was perhaps too cautious when City came to prominence but changed tact last season and United raced into a 2-0 lead. Ashley Young's second-half tap-in was wrongly disallowed for what would have extended the advantage, before Yaya Touré halved the deficit less than a minute later.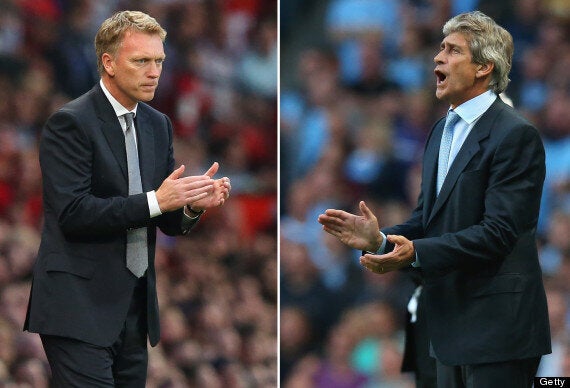 Moyes and Pellegrini's first derby test comes on Sunday
Victory at Plzeň was as pleasing for Pellegrini as Vincent Kompany's return. In two of the last four derby fixtures at Eastlands the Belgian has gone off in the first quarter after United opened the scoring, with the Reds eventually hitting two more in each game. Kompany scored the winner and City kept a clean sheet in the pivotal 2012 victory and the November 2010 ended in a scoreless stalemate.
Pellegrini is relying on such expertise to quell the doubters.
Related