The trailer for a documentary about Michael Jackson's final magazine photo shoots before his death in 2009 has appeared online showing the King Of Pop in good spirits.
The film, which includes never-before-seen footage, chronicles the 'Thriller' star's 2007 studio sessions with L'Uomo Vogue and Ebony magazines.
Jackson was accused of looking "whiter than ever" when his Ebony cover was first unveiled, marking his first United States interview and magazine story in a decade.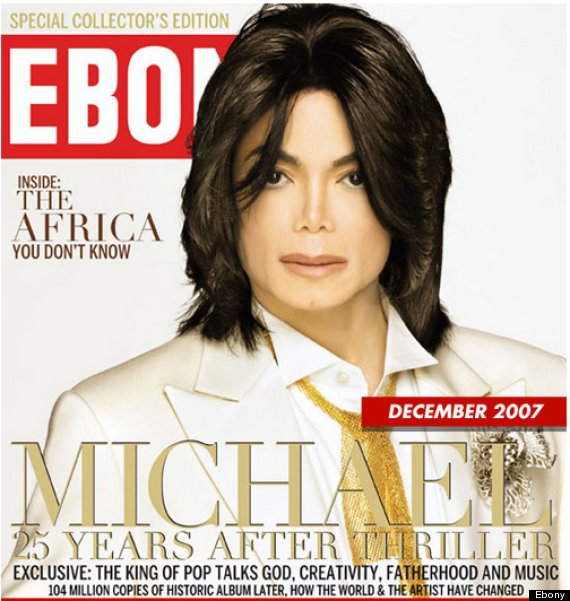 Michael Jackson's 2007 Ebony cover
The trailer for 'Michael: The Last Photo Shoots', which details the lengths assistants, stylists and photographers had to go to to make the projects happen, shows Jackson laughing and joking on set.
A spokesperson for the documentary told Wenn: "It is a unique story told through the eyes of several of Michael's closest friends, photographers and stylists that had helped Michael prepare for his planned comeback in 2007.
"After several years of living overseas in seclusion, Michael returned to the United States wanting to make a comeback onto the music scene. Taking the cover of L'Uomo Vogue for its October, 2007 issue was Michael's first step... and on September 24, 2007 in Brooklyn, New York, Michael Jackson did an interview and another photoshoot for Ebony Magazine - for its December 2007 issue." The film features interviews with Rushka Bergman, the contributing fashion editor of L'Uomo Vogue, Vogue Italia and Jackson's personal stylist, photographer Bruce Weber and make-up artist Kabuki.
Jackson died two years later in July 2009, on the eve of a major comeback tour.
LIKE US ON FACEBOOK | FOLLOW US ON TWITTER