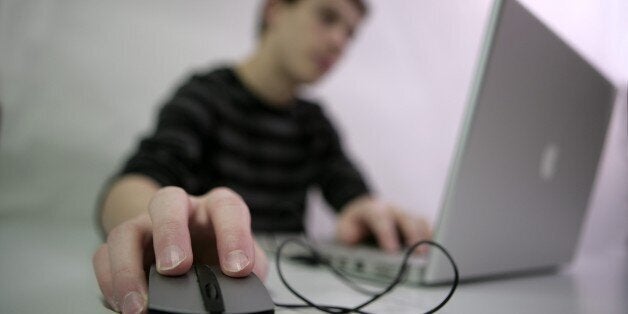 Paedophiles are grooming hundreds of British children in performing "slave-like" obscene acts on webcams, and blackmailing them for cash or to force them enact increasingly depraved scenes, by threatening to show the images to their families.
Terrified children as young as eight are being driven to self-harm and at least seven children have committed suicide internationally because of online perverts, a new study from the Child Exploitation and Online Protection (Ceop) centre.
Foreign abusers target British children because of the perceived "liberal" nature of attitudes to sex in the country, and because of the accessibility of the English language, experts believe.
Investigators first identified a trend for online blackmail for abuse in 2010, codenamed Hattie. In 2012 two Kuwaiti brothers were jailed for targeting 110 children, including 78 in the UK, forcing them to become online sex slaves.
Ceop deputy chief executive Andy Baker said: "Children as young as eight are being targeted, being blackmailed, being extorted, being forced, being coerced, to perform slave-like acts through the internet, on webcam.
"It is sexual and degrading, some are being forced to cut themselves and write on their naked bodies. There has been an increase in children self-harming, seriously self-harming, and seven children in the last couple of years have taken their lives."
He said that if a child commits suicide after this type of abuse it could be treated as homicide.
Baker told offenders: "We will come after you. You aren't beyond reach. Click by click you are drawing us closer, every time you share an image you draw us closer."
In the past two years across 12 investigations, 424 children worldwide have been blackmailed in this way, of whom 184 were from the UK, Ceop said.
Experts believe thousands of British children could have been targeted by abusers intending to trap victims.
Internationally, seven committed suicide, including 17-year-old Daniel Perry from Dunfermline in Fife, who died on July 15 after being tricked into thinking he was talking to an American girl online.
Another seven seriously self-harmed, of whom six were from the UK.
"First of all it's the English language. They are able to threaten the children if they can communicate to them. English is a really popular universal language," Ceop operations manager Stephanie McCourt.
"Second of all, the offenders have actually said that because they perceive the UK as a very free and open and liberal society, they think that they will have more success in targeting UK children."
Paedophiles create fake online personas to pose as children, even geographically researching the areas where they wish to target victims, and persuade them to share sexual images or perform sex acts on camera.
They then threaten to share the pictures or footage with the victim's family or friends, and force them to perform more extreme sex acts on camera, and even harm themselves.
Ceop has been involved in 12 blackmail investigations in the past two years, and in each case has made arrests less than a week after receiving a report of abuse.
The abusers came from four different continents, and in five of the operations the criminals were based in the UK.
"Offenders often have the mistaken impression that they can hide themselves online, they can use the anonymity that they perceive the internet affords them. That is not true," McCourt said.
The biggest case, code-named Operation K, involved 322 children who were blackmailed around the world, including 96 in the UK.
The victims, primarily boys aged 11 to 15, were targeted by a gang from an non-European country, that Ceop would not name, and they are due to stand trial in the coming weeks.
They used more than 40 fake online profiles and more than 40 different email addresses to lure in their hundreds of victims.
Their network was exposed after a social networking site noticed suspicious activity. A child in the UK also told their parents, and a Ceop investigation was launched.
Experts said abusers exploit the natural tendency of adolescents to take risks, as well as their naivety, for sexual gratification and sadism, but also in a few cases to extort money.
Daniel Perry was told that his video conversations would be spread among friends and family unless he paid cash.
Ceop said warning signs that a child has been subject to this abuse could involve them becoming aggressive and withdrawn, as well as self-harming.
The centre said that blackmail can be reported to the NSPCC helpline on 0800 328 0904, or to police.
Reports of abuse can also be made at the Ceop website www.ceop.police.uk.
Popular in the Community