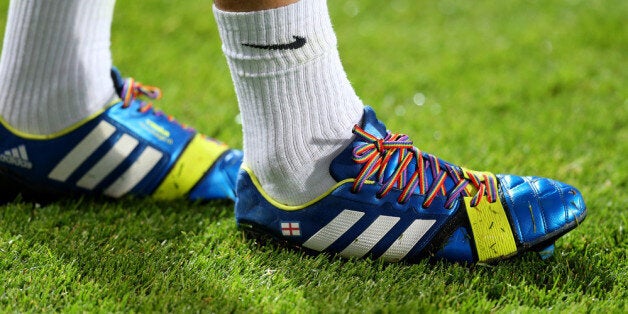 Stonewall are urging footballers to wear rainbow laces in a campaign they hope will change attitudes towards homosexuality in football.
It comes at the end of a week where tolerance within the sport has been heavily scrutinised, given the ongoing discussions at Spurs about hate language used in chants.
This weekend the 'Right Behind Gay Footballers' project hopes to draw attention to the fact that there are currently no openly gay professional footballers. But given there are approximately 5,000 professional players, the chances of this being a true reflection of their sexuality are extremely slim. In fact, they did the maths and found "this is similar odds to predicting the correct score in 150 consecutive football matches."
Laura Doughty, Stonewall's Deputy Chief Executive, emphasised the need to make homosexuality visible in football, saying: "Wearing rainbow laces, players will send a message of support to gay players and can begin to drag football in to the 21st century."
The LGB charity undertook a study in 2009 to see how the illusion of absence of homosexuality has been damaging to the sport. Their research showed seven out of 10 football supporters who had recently attended a match noticed anti-gay language and abuse.
The campaign kicked off this week, delivering rainbow laces to all 134 professional clubs in the UK. They hope individual players will choose to show their support by wearing them for this weekend's matches.
Queens Park Rangers midfielder Joey Barton, who has been fronting the campaign has voiced his support via twitter:
Premier League club Everton also gave their backing with captain Phil Jagielka saying: "For me and the rest of the lads at Everton a player's sexuality is not important, but their ability on the pitch is. We don't tolerate discrimination of any kind at Everton and the whole Club works hard to get that message out to the fans."
There has been further support throughout the leagues such as at Bradford City who have committed to flying the rainbow flag at the Coral Windows Stadium on all match days while fans and five-a-side teams are also able to join in by entering a competition to win their own laces on the Stonewall website.
Other players who have pledged their support via twitter include Fulham FC goalkeeper David Stockdale, Cardiff City striker Peter Odemwingie and Leicester City forward Jamie Vardy.
Off the pitch, other high-profile supporters include Clare Balding, Stephen Fry and Gary Lineker, who has said on twitter he will wear the laces on Match of the Day.
The tagline 'Right Behind Gay Footballers', which Stonewall defend as tongue-in-cheek, has been met with some criticism. The initiative Football vs Homophobia commented: "Whilst supporting the overall aims of the initiative, we did not feel comfortable with some aspects of the language and tone... However, we welcome the opportunity for further discussion and debate around some of the issues of language raised by the campaign."
Stonewall are defending the decision. Speaking to The Huffington Post UK, Sam Dick said: "You just have to look at the twitter stream to see that this is a campaign that has got tens of thousands of people discussing the issue and tens of thousands of people saying we don't care what team you play for, we want to kick homophobia out of football."
The FA have stressed that wearing the laces is a choice they are leaving up to individual clubs and players. They told the Huffington Post UK: "The FA continues to promote the anti-homophobia agenda across the game, and is working with the football bodies and our LGB&T partners to ensure that football is an increasingly welcome environment for all.
"We share the views of the football bodies that whilst anti-homophobia messaging is something we are supportive of, our preference is for consultation and involvement from an early stage, especially in consideration of commercial partners and the co-ordination of approaches across the game.
"It is the choice of individual players or clubs whether they show support for anti-homophobia through this campaign."
However, Tottenham Hotspur have indicated they will not be taking part, saying: "Whilst the campaign message is positive and one we support, there was unfortunately no prior consultation with ourselves, the Premier League or other clubs... Such consultation would have enabled us to avoid issues in respect of associated third-party commercial entities."
However, many football fans have taken to twitter to petition their teams and players to take part in the action.