José Mourinho offered a collector's item even before kick-off. "Sorry about your disappointment but we will give you happiness," he shrugged. Mea culpa. Mourinho apologies are as rare as Stamford Bridge defeats for the Portuguese, let alone two in a row.
Perhaps mindful of the mutiny which has blighted the previous two campaigns (and decorated with three trophies), Mourinho preached how important it was Chelsea remain "together". The excluded David Luíz and Juan Mata cheerfully acknowledged supporters in the East Stand, careful that the slightest hint of public discontent could provide more column inches. Luíz even waved and smiled for the camera-wielders. Everything's fine.
A goalless draw at home to Fulham was the second of Rafael Benítez's toxic reign but it was a happier outcome on Saturday.
An unmemorable start featuring two wayward finishes from Steve Sidwell and Samuel Eto'o was typically enlivened by Mourinho. It took him nine minutes to spring out of the dugout and hammer Eden Hazard for straying away from the hugging the touchline. Remarkably, the Belgian didn't obey immediately.
Petr Čech averted disaster in the 13th minute. Fulham, without a win at the Bridge since 1979 and bereft of the mesmeric Dimitar Berbatov, started Darren Bent on his own up front and the England striker finished meekly when put through by Pajtim Kasami for a one-on-one.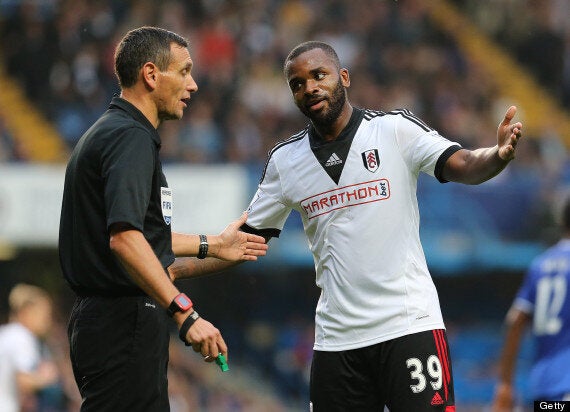 Bent finished meekly when one-on-one with Čech
Ramires tested Fulham deputy Robert Stockdale's concentration with a flick on from a set-piece, but the goalkeeper was less convincing when he punched thin air from Anré Schürrle. It was all he had to deal with in the opening third, however.
So unthreatening were Chelsea that Fulham's infamously diplomatic travelling support received no reply from despairing home supporters. There were no revolting murmurs, but four winless matches, an unsatisfactory transfer window and two outstanding performers from the previous season sitting in the stands used to represent a crisis for the Blues.
Hazard reflected Chelsea's frustration with a desperate 25-yard drive but Mourinho remained rooted to his seat, muttering his gripes to assistant Rui Faria while Martin Jol stood contentedly in the adjacent technical area. Roman Abramovich rarely looks happy, but his drowsy demeanour was another ominous sign after his dressing room visit on Wednesday.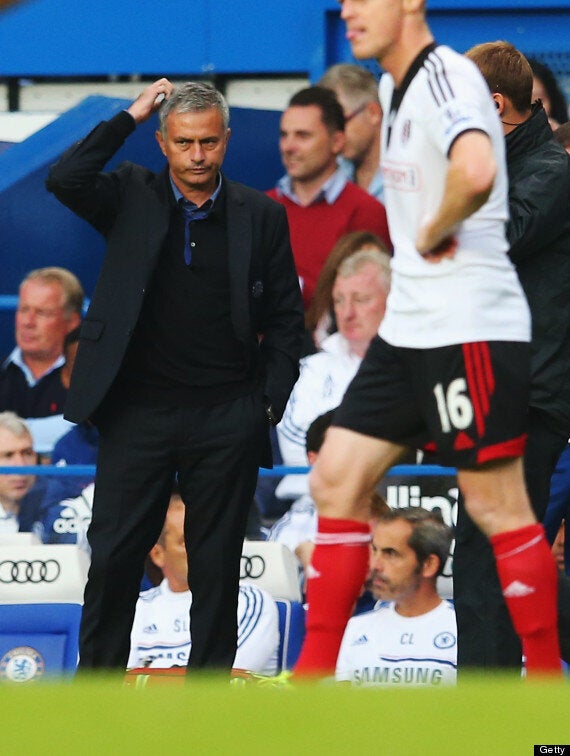 Mourinho's Chelsea were unconvincing in the first half
Stockdale saved from Branislav Ivanović's low, drilled shot as Chelsea rallied, but it could not prevent a goalless and insipid first 45. Then the boos and groans arrived.
Chelsea's longest winless run of the Mourinho era was five games in the spring of his final full season, as draws to Bolton and Arsenal and defeat to Liverpool ended their Premier League and Champions League chances. While the circumstances weren't as grave, Chelsea's gumption in the early stages in the second 45 suggested otherwise.
Oscar's 52nd minute opener ironically came after a a lamentable few minutes for the Brazilian. Lauded by Mourinho as his preferred No.10, the No.11 slammed the ball home from inside the six-yard box following some dithering goalkeeping from Stockdale. Mata stood to applaud briefly.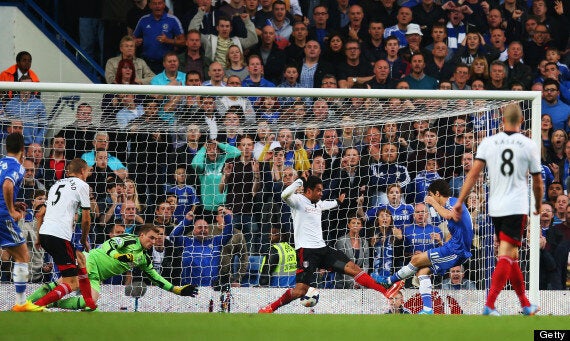 Oscar slams in Chelsea's opener
Perhaps as confused as Jonjo Shelvey was playing against his old club on Monday, Sidwell fluffed an easy header to swiftly equalise in what was Fulham's final threat. The positivity began to flow around Stamford Bridge again and Chelsea's play was more penetrative than ponderous with Hazard as the central attacker.
Eto'o was anonymous on his maiden league outing at the Bridge and was withdrawn for Fernando Torres on 63 minutes. Romelu Lukaku had earlier galvanised Everton and hit the winner at West Ham, and it is difficult not to view him as a superior alternative to the trio of strikers Mourinho preferred to keep.
Jol played his wildcards in Adel Taarabt and former Chelsea scholar Buomesca Tue Na Bangna but it was futile. Torres drew a fine save from Stockdale but from the resultant corner John Terry assisted John Obi Mikel, who acrobatically doubled the lead for his first ever Premier League goal in 185 games to finish the contest.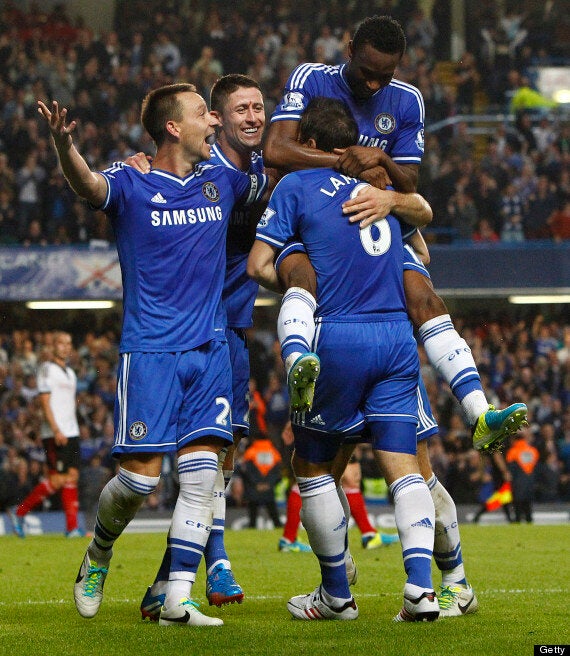 Mikel scores his first ever Premier League goal
It was a day for collectors' items.