Two men have broken the record for visiting all 270 London Underground stations in the fastest possible time.
Geoff Marshall, 41, and Anthony Smith, 28, achieved the feat in an impressive 16 hours, 20 minutes and 27 seconds.
The pair - both from London - started at Chalfont & Latimer on the Metropolitan Line and finished at Heathrow's Terminal 5.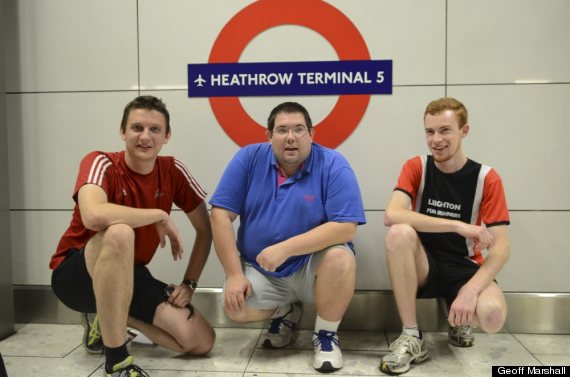 Marshal, Green and Smith
Marshall told the BBC the record took "more skill than people think" but refuse to reveal their actual route.
They were assisted in the attempt by friend, Chris Green, who planned the route and itinerary as well as giving live information.
Marshall said: "You have to get off one line and run to the other.
"We run from Cockfosters to High Barnet so it's a combo of athleticism and the ability to decode a Tube timetable.
"People tar you with a trainspotter brush, but I've never written down a train number in my life."
Marshall is a previous holder of the record back in 2004 when he did it in 18 hours, 35 minutes and 43 seconds.
This was his 25th attempt and by far the most successful.
He said: "Something always broke or went wrong, I love the Tube and the underground but it does break down."
The pair's record was set on 16 August but they have been awaiting official confirmation from Guinness.