The latest issue of the fanzine's front cover features three "impostors", with Anderson, Tom Cleverley and Ashley Young's faces photoshopped onto a trio of bodies. The verdict from sussed supporters is United have stood still in a summer when they had to keep on their toes.
Optimists belittled some supporters' complaints by pointing out the current bunch had won the league by April last season, which is a form of complacency in itself. Most teams have strengthened sufficiently, United haven't. Fail to prepare, prepare to fail is how Roy Keane would have described it. And Manchester City's thrashing of United is not actually a surprise when you consider how both clubs prepared for new seasons under new managers.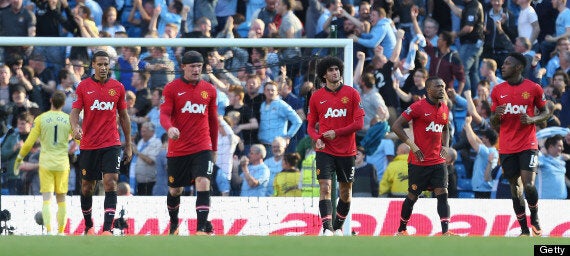 United suffered another chastening defeat at City on Sunday
A year after Manchester City's Supermarket Sweep dash brought in Scott Sinclair, Maicon, Javi García and Richard Wright, the transfer window clanked shut on United's desperate fingers. City relinquished their title partly due to questionable spending and United could be prepared for a similar fate.
City made amends this summer, spending over £90 million on talent which stood out in the rout of United. Fernandinho anchored the midfield calmly, Alvaro Negredo was selfless and Jesús Navas offered a variety that was sorely lacking under Roberto Mancini. The two Spaniards assisted three of the four goals.
United's outstanding summer signing "couldn't get to grips" with the game, David Moyes admitted. Marouane Fellaini's duel with Yaya Touré was billed as a heavyweight bout but the indomitable Ivorian registered a knockout blow in the first 45. Fellaini will improve United, but most central midfielders would.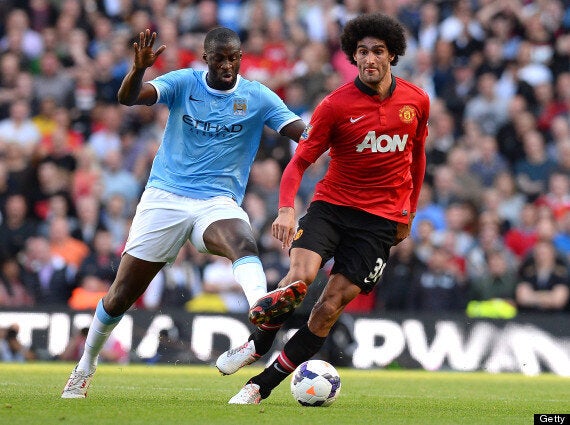 Fellaini struggled against Yaya Touré
Contentedness rarely prevails. Ferguson was guilty of becoming comfortable when he bought Antonio Valencia, Michael Owen and Gabriel Obertan after Cristiano Ronaldo was sold. United only lost the league by one point, chiefly because of who their manager was, but they don't have Ferguson to rely on anymore.
Moyes started one of the "impostors", Young, who was ineffectual in attack and inept in defence. Though United were the away team and Young and Valencia are ostensibly attacking wingers, their selection ahead of Nani and Shinji Kagawa was a return to the cautiousness which has been a theme of Moyes' line-ups so far. Pellegrini, meanwhile, demoted the labouring James Milner in favour of Navas and Samir Nasri as United wilted.
Erroneously excluded from England's starting XI in Ukraine, Michael Carrick perhaps typified United's timidity at the Etihad Stadium most. Slow, tentative and wasteful, he is usually the team's best passer but his slow start - an occasional ritual of his past campaigns – has downgraded to poor form. Fellaini alone was not enough to strengthen United's dismal midfield and the problems persist, with the squad's best performer the last two seasons now struggling.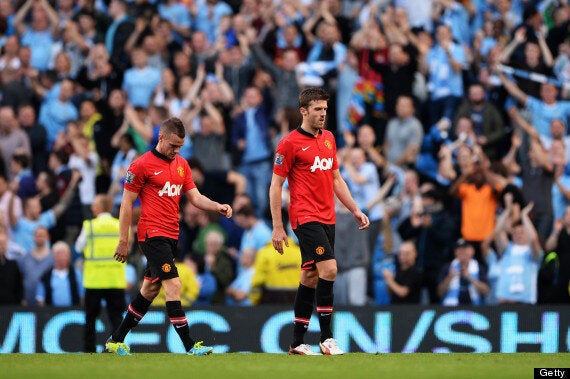 Carrick's form is a concern for his manager
In pre-season Moyes did admit he wanted two midfielders but the club's dilly-dallying means Cleverley is their third-choice midfielder. It again outlined the paucity of options The Biggest Club In The World™ have in one of the most critical positions. The third "imposter", Anderson, was not even named on the substitutes' bench.
The Brazilian was spared the ignominy of a foot-chase with Touré or tracking Navas, just two of City's outstanding performers. Pellegrini's squad is the best in the country and on Sunday he dashed some of the doubts over his approach to the Premier League following the frivolous team which was fielded at Stoke.
Pellegrini has sharpened the attack with a winger in Navas and Negredo, whose altruistic attributes are refreshing in the wake of Mario Balotelli and Carlos Tévez's departures. Samir Nasri has benefitted from better man-management and is unlikely to be the only one.
Rather than air Blue Moon or claim the city is theirs, City fans couldn't resist one final dig. "There's only one David Moyes," they chirped. They seem to think there's another impostor.