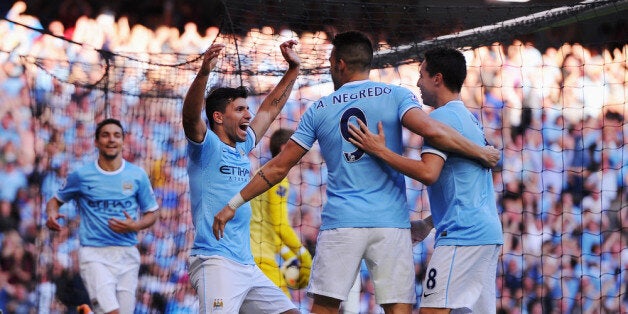 Humiliation has typified the Manchester derby in recent seasons and after City's 6-1 triumph at Old Trafford and United's 11-point title win it was the Blues' turn again in this most one-sided of Mancunian contests.
It was craving against complacency at the Etihad Stadium and the scoreline shouldn't be regarded as the surprise some will hold it as. City concentrated on signing new players in the summer whereas United focused on signing new commercial partners. Fail to prepare, prepare to fail.
David Moyes said United "played like champions" in their lacklustre Premier League defeat at Liverpool three weeks ago but he will not be using the same line after his first dosage of reality from slick City.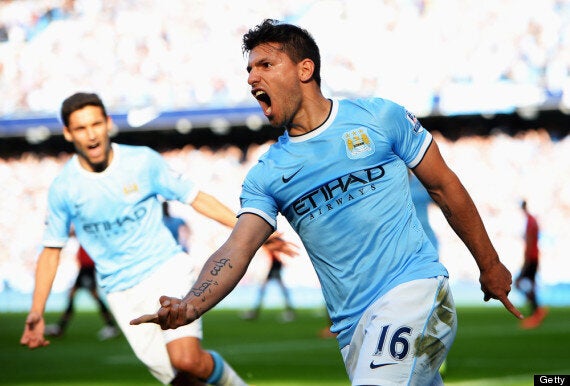 Agüero opened the scoring for City inside 16 minutes
City actually began nervously when Vincent Kompany's lackadaisical clearance was blocked by Danny Welbeck inside the opening 10 seconds, but if the Belgian began hesitantly his teammates didn't.
United couldn't match the hosts' tempo and their ball retention was risible. "Play like Fergie's boys," is a positive yet ambiguous chant: United were ceding possession and they were soon conceding.
Chris Smalling lacked cover at right-back and with no one tracking Aleksandar Kolarov, the Serbian overlapped and crossed for Sergio Agüero, United's bête noire, to silkily volley past David de Gea. No.16 in the 16th minute.
Wayne Rooney, a veteran of physical clashes with Kompany, showcased United's frustration with a flurry of fouls which inevitably led to a booking in what was an easy game for Howard Webb to officiate. Samir Nasri nearly bettered Agüero's finish with a thumping volley that crashed over the bar and that finally elicited something of a response from United, who resembled a bottom five side in the opening 30.
Rooney cut a frustrated figure
It took the champions until the 42nd minute to fire a shot at Hart's goal but with half-time looming Yaya Touré, another one of United's boogeymen, pounced. Alvaro Negredo flicked on from a corner to assist the unmarked Ivorian inside the six-yard box and City had a deserved 2-0 lead at the pause.
Appropriately, it was Marouane Fellaini who was bamboozled by Touré. United might have bought a central midfielder but the problems in the area persist. Michael Carrick's slow start to the campaign can now be described as a loss of form and Fellaini could not contain the indomitable Touré, complemented calmly by Fernandinho.
Both United midfielders were culpable for Agüero's second and City's third on the 47th minute. Negredo pulled Nemanja Vidić out of position and with Rio Ferdinand guarding the near post, Agüero ghosted to the far stick where he met the Spaniard's inviting cross. Game over.
Sir Alex Ferguson lost by a margin of one to five against City but Moyes was in danger of getting hammered by six. Four of United's back five that exhibited the kind of naivety which saw them sieve six past City two years ago were punished severely again.
Nasri, thriving in Roberto Mancini's absence, made it four three minutes later after Jesús Navas was granted the freedom of the right wing. Tom Cleverley, already waiting to come on, stood despairingly beside his crestfallen manager.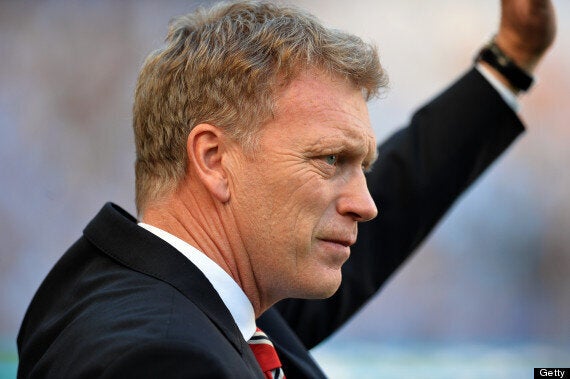 Food for thought: Moyes has suffered two galling defeats
Rooney skied an easy chance. "You should've gone to Chelsea," chirped the City supporters who coveted his signature three years ago next month. Moyes' name wasn't being hollered anymore by United fans, who instead rousingly celebrated their 20th title "playing football the Matt Busby way". City fans paid their own sardonic tribute with "There's only one David Moyes."
Fellaini offered United's first shot at goal in the 68th minute when Hart tipped over his curling effort and Evra pinged the post from a corner but Blues were too busy serenading "David Moyes' Red and White Army" to care.
Rooney reduced the arrears with a postage-stamped free-kick to become the highest scorer in the derby's history with 11 goals. It was the first time he had scored in a derby defeat. It was an exercise in humiliation.
Popular in the Community