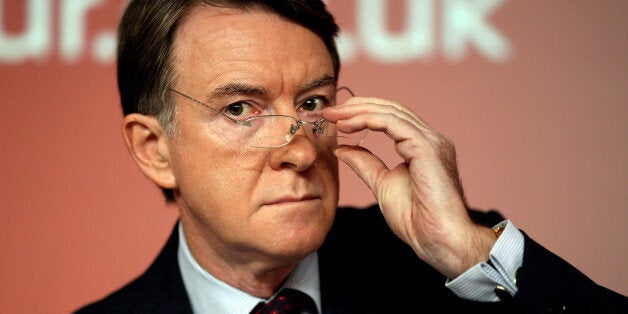 Peter Mandelson has called on Ed Miliband to "show boldness" and set out policies that "make sense for business, job creation and investment" in order to win the next election.
Calling on the Labour campaign to "start firing on all cylinders", Lord Mandelson wrote in the Financial Times: "Mr Miliband's brand and message need to be recast for the age of social media, and he needs to show boldness and political artistry in grabbing his share of attention.
"This is best done arguing from clear principles and having the courage to stick by them."
The former Labour business secretary's intervention comes as Ed Balls prepares to deliver a speech at the Labour Party's annual conference today in which he is set to offer up the party's election pledges for scrutiny by the Office for Budget Responsibility in a bid to ensure economic "iron discipline".
The Shadow Chancellor will say: "This is the first time a shadow chancellor - the first time any political party in Britain - has ever said it wants this kind of independent audit. A radical change from what's gone before, but the right thing to do to help restore trust in politics."
Andrew Tyrie, Tory chairman of the Treasury Select Committee, said the proposal could "improve the quality of public debate" if "thoughtfully done".
However, the Tories have claimed that Labour promises would require more than £1,000 extra borrowing per household in 2015.
The Labour leadership has come under further pressure to set out its policies in greater detail by the British Chambers of Commerce, explaining how they would tackle issues like youth unemployment, access to finance for business and the UK's relationship with the EU.
BCC Director General John Longworth said: "If Britain is to compete with the best economies in the world, politicians must work closely with business, with an eye on long-term success, not on short-term headlines.
"Entrepreneurial spirit is re-kindling in the UK. We have the potential to be a world leader, in so many innovative sectors of b