Dale, of Biteback Publishing, was interviewed by Sussex Police following a scuffle with Stuart Holmes on Brighton seafront as he tried to get the veteran campaigner's anti-nuclear banner out of shot.
Mr Dale voluntarily attended Brighton police station just after 8pm yesterday and was questioned about his version of events as part of the police investigation.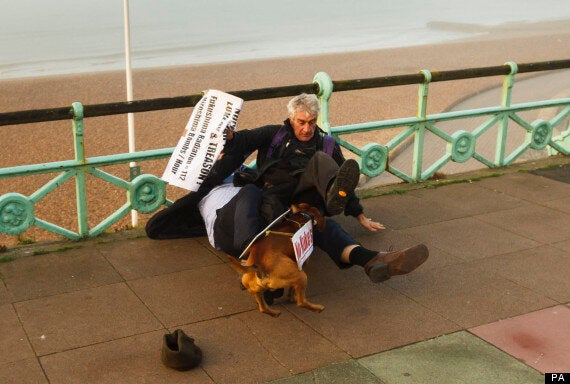 Holmes was standing nearby Damian McBride, who was being interviewed by Daybreak
A force spokeswoman said detectives interviewed the protester earlier.
Mr Dale, who was interviewed in relation to an offence of common assault, will attend Brighton police station again tomorrow.
Officers are believed to have arrived at the LBC 97.3 radio studio at the Labour Party conference venue in the city, where Mr Dale was presenting his regular show.
The barking of Mr Holmes's placard-wearing dog was audible to viewers on ITV's Daybreak as - out of shot - a frustrated Mr Dale grabbed the pensioner's rucksack and physically hauled him out of the way.
As they tussled on the pavement, with the dog joining in, their confrontation was filmed by other members of the significant media scrum which has attended Mr McBride's arrival at the conference.
The protester tried to make the best of the situation, holding up his banner reading "No Nukes - Radio Active Dust Cancer Epidemic" to photographers recording the fight.
The men separated and dusted themselves down soon after and Mr Holmes went back to trying to edge his way into view of the cameras.
Mr Dale said the protester - a familiar face to conference-goers for 30 years - was an "idiot" and he had only done "what any self-respecting publisher would do" by stepping in.
But Mr Holmes, originally from Manchester and a veteran of three decades of party conferences, said that after speaking to the police he was considering legal action.
Mr Holmes - who was surprised to be told the interview with Mr McBride was being broadcast live - insisted that the ex-spin doctor saw his placard and appeared "happy with it".
He said from his pitch outside the entrance to the conference venue: "I was not ruining the interview, I was just in the background. I was not saying anything.
"Then this giant of a guy turned up and grabbed hold of me. I struggled free and in the process we ended up on the floor."
He said he would be talking with his lawyers next month but was unlikely to take it further.
Writing on his blog, Mr Dale said the only injury was caused by the dog, also named Stuart, apparently biting its owner on the backside during the fracas.
Mr Holmes said that when he spotted the cameras, he assumed they were for party leader Ed Miliband whom he was keen to confront after being ''totally blanked'' by him at the TUC conference.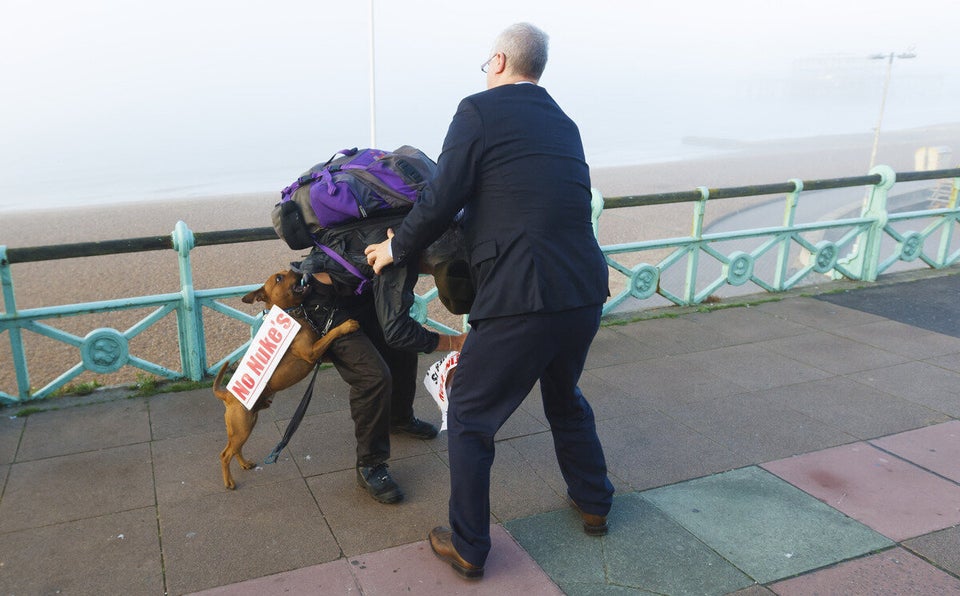 Iain Dale scuffles Stuart Holmes