FIFA 14 is released today as EA Sports' latest incarnation of football's most popular video game takes the world by storm.
With more players endorsing the game than ever before and social media allowing EA Sports to intensify anticipation months in advance, expectation is greater than ever before.
To coincide with FIFA 14 going on sale, a series of facts about the game and the franchise have been released.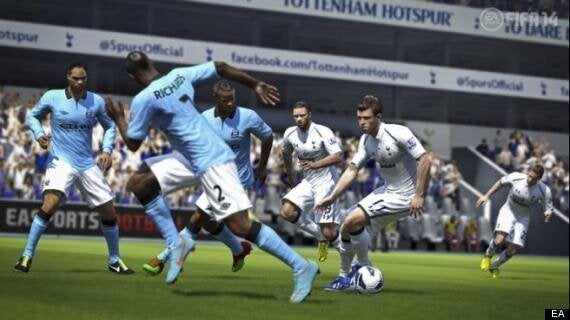 Aside from Rio Ferdinand's tweet complaining about his pace stats last year, Theo Walcott has said at player events he's not fast enough in the game, which tallies with his bloated opinion of himself.
Three of the top five finishers in the Premier League are Manchester United players (Robin van Persie is 1st, Javier Hernández 4th and Wayne Rooney 5th)
Theo Walcott is the fastest player in the Premier League, with Arsenal teammate Ryo Miyaichi 2nd
Mathis Bolly of the German Bundesliga 2 is the second fastest player in the world on the game
Leon Britton is rated higher for passing than Michael Carrick (fourth in the Premier League), and Mesut Özil is the second highest rated
Ashley Cole is rated higher than Leighton Baines, even though the latter was named in the Premier League Team of the Year the last two seasons
The best header in the game is Vilmos Vanczák of FC sion in the Swiss Super League. Per Mertesacker is the second highest in the world
One of only five players in the Premier League to have "five star" skill moves is Liverpool's Oussama Assaidi, on loan at Stoke this season
FIFA franchise has generated more than6 billion USD since it began in 1993. It is the biggest selling franchise in EA history
FIFA 13 was the biggest game launch in the history of sports video games, selling more than 4.5 million games in the first 5 days, led by more than 1.23 million games sold in the first 48 hours in the United Kingdom. FIFA 13 is only the second videog ame franchise ever to sell more than 1 million units in the UK within just 1 day
FIFA 13 was the No. 1 selling game in 43 countries around the world the week it launched
On September 30, 2012, three days after FIFA 13 launched worldwide, EA recorded the busiest day for online gaming for a single title in its history. There were 810,000 fans playing FIFA 13 simultaneously
FIFA fans spend more time playing the game than the average person spends on Facebook (57 minutes per day versus 46 minutes)
FIFA Ultimate Team is the most popular game mode within FIFA. Average Number of FIFA Ultimate Team games played daily: 3.4 million
Average Number of players transferred on the FIFA Ultimate Team Transfer Market: 17.1 million
The FIFA franchise is developed at EA's largest development studio at EA Canada in Burnaby, British Columbia, by a global team comprised of 21 different nationalities
FIFA products are localised into 16 different languages and sold in 51 countries
FIFA 14 will release on 14 unique platforms
Number of licensed Leagues in FIFA 14: 33
Number of Clubs in FIFA 14: 635
Number of Stadiums in FIFA 14: 71
Number of authentic balls in FIFA 14: 55
Number of authentic boots in FIFA 14: 95
Related