The Samsung Galaxy Gear is an app-enabled smartwatch designed to work in conjunction with a Samsung phone or tablet. It costs £299 and works with either Galaxy Note 3 and Note 10.1.
"A perfect companion device that further integrates the Samsung GALAXY experience into everyday life. Samsung GALAXY Gear combines smart device connectivity, tailored technological features, and stylish design as a single premium accessory."
1.63-inch 320x320 pixels screen
800Mhz processor
4GB storage
1.9 megapixels camera
Bluetooth 4.0
Accelerometer, Gyroscope
Standard battery, Li-ion 315mAh According to unnamed executives, and the Korean Times, Samsung already looks ready to move on past the first generation Galaxy Gear. "We've acknowledged that our Gear lacks something special," an unnamed exec told the paper. "With more investment for user interface and user experience, Samsung devices will be better in terms of customer satisfaction."
Which is a shame, because while our first few days with the Gear make clear that the tech giant's first smartwatch proper is a relatively limited device, it's also begun to win a genuine place in our hearts.
The Galaxy Gear isn't quite the smartwatch of your dreams, or your sci-fi novels - but it does manage something almost equally impressive: it's useful.
Admittedly, our first impressions back at IFA weren't great. But out of the box, the watch is actually very nice looking. It's quite thick - just under a centimetre - but isn't uncomfortable to wear, it's light, and easily passes for a normal watch. The strap comes in several bright colours (Black, Gray, Orange, Beige, Gold, and Green) and isn't replaceable due to the included camera, but our black version was neat and tasteful. It fastens tightly and securely, fits well, and has a single button on the side to turn it on.
In other hardware terms, the battery life seems pretty decent - we're getting about two and a half days use out of it, on and off, but that will vary wildly based on your habits. The use of Bluetooth 4.0 means that it doesn't make much of an impact on your phone's battery either, which is a big plus. The 320x320 pixels screen is small but decent, and the 800Mhz processor is enough to keep everything ticking along. (Ho ho ho.)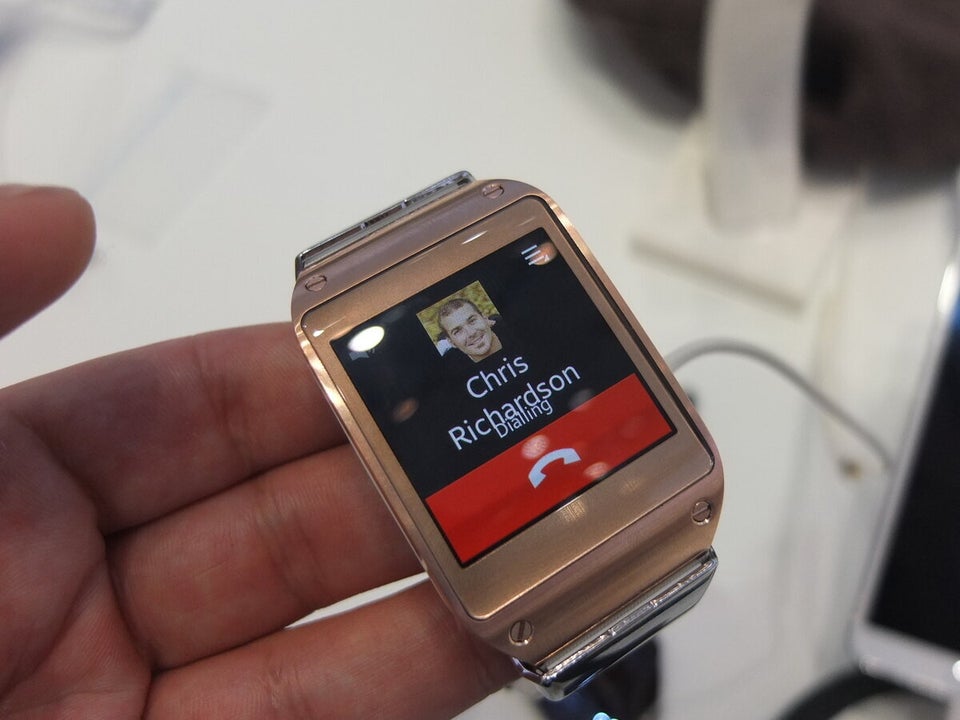 Galaxy Gear
The basic functionality is solid too. The watch face (and alarm app) pops up on the first button press. It's customisable, and you can download a range of faces including our personal favourite, a natty LED-style display. You flick left or right to swipe through the apps, and swipe down from the top to go back. The key apps - the camera (a surprisingly decent 1.9 megapixel snapper, with a happily non-mutable shutter sound), the dialler and the notifications app - are easy to use and free of visual clutter.
When somebody calls your phone, the call pops up on the watch and you can slide across and take it right there on your wrist - talking into it like (yes, sigh) a spy. The two microphones and speaker combine to give you clear, usable audio - though there's no port for headphones or a mic. Calendar reminders, voice memos, the pedometer and S-Voice all work as you'd expect - which is to say simply, with the minimum of options. And the black-white-orange on-screen colour scheme keeps everything readable and clean.
The watch is extendable of course, with a few dozen apps already available (including Evernote, eBay and MyFitnessPal). You install and remove these via the Gear app on your smartphone, and the process is pretty painless.
The apps are key however, in that there isn't anywhere near enough of them. There are supposedly many more on the way (according to Samsung). But right now, most of the time your Gear will interrupt you with a buzz to tell you about something it can't actually help with. Gmail, Twitter and Facebook notifications are only really helpful if the Gear can show you the message. Right now, it can't. They pop up, you tap them, it tells you to look at your phone. So you might as well have done that anyway.
It's also a shame, because once the Gear is on your wrist, you'll want to use it as much as possible (and not just because it costs £300). You'll start slowly, but over time the watch will start to make itself subtly useful and you'll like it more and more. As such we really hope there are more apps soon - the Gear needs them, badly.
As of today, for most users, the Gear probably isn't useful enough, good looking enough or cheap enough to justify the cost. You sense that Apple definitely has something at least as good, if not much better, sitting in a drawer somewhere, that it's embarrassed to release. Samsung isn't. That's the difference between the two. And personally we're glad Samsung sent theirs out into the world for us to see. But everyone involved knows they haven't made a classic yet.
On the other hand, the Gear does make sense on its own terms, for a premium user who wants to jump on board early and deal with the ups and the downs. The potential, via new apps, is significant, and personally we're enjoying using it; figuring out what it does and doesn't do and generally impressing our friends. Is that enough to kickstart a wearable revolution? No. But it might just be enough for now.