Is "gay" a dirty word? Tesco seems to think so – for the supermarket giant felt the need to asterisk it on its website.
And now for the hard sell: "If Sex in the City and Will & Grace taught us anything, it's that g*y best friends are in this season.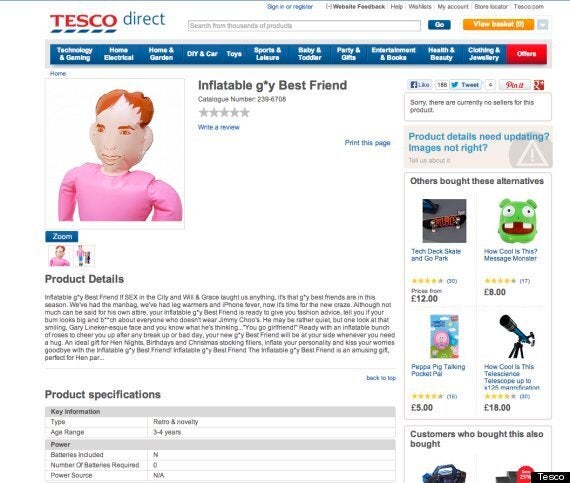 'Perfect for Hen parties' and best suited to children aged between 3-4, apparently
"Your inflatable g*y Best Friend is ready to give you fashion advice, tell you if your bum looks big and b**ch about everyone who doesn't wear Jimmy Choos."
Yes the product itself (an "amusing gift" apparently, and "perfect for Hen parties") is tasteless tat, but what is most objectionable is Tesco's decision to censor the word "gay".
"This is like trying to sell ice to Eskimos. We can't imagine why any woman would choose to buy an inflatable gay best friend when there are two million of the real thing already available in modern Britain and most of them are much better looking than Tesco's pale imitation," Stonewall Chief Executive Ben Summerskill tells HuffPost UK.
Bizarrely, according to Tesco this charmless gift is best suited to recipients in the age range of 3-4 years (yeah those four-year-olds are always out at Hen parties).
The item in question was a bright orange "Psycho War" boiler suit with the word "Committed" printed on the back. "Dress up as the most thrilling psycho killer character of all time," read the website description.
It has now been withdrawn from sale.
UPDATE:This afternoon the inflatable "g*y" best friend page was removed from Tesco's website and a spokesman told us this: "This product was uploaded to the website by a third party seller but was removed from sale immediately because we found it offensive. The webpage should have been removed at that time and we are looking into why it is still visible two months later. We have very clear guidelines for third party sellers who list items on our website, and are very sorry that on this occasion they weren't followed."