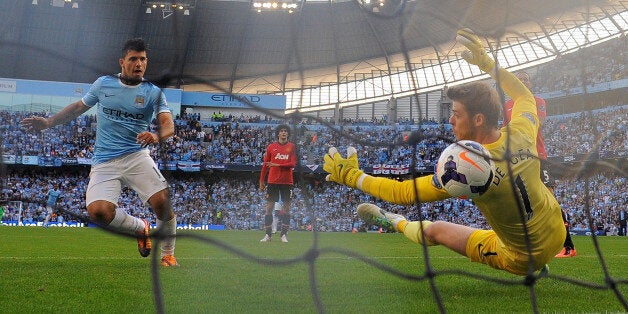 Like Frankenstein's Monster, the Premier League finally came alive after a number of failed attempts last week and the sixth matchday boasts a number of appealing fixtures.
Here are five things to look forward to...
WHO ARE THE DERBY CASUALTIES?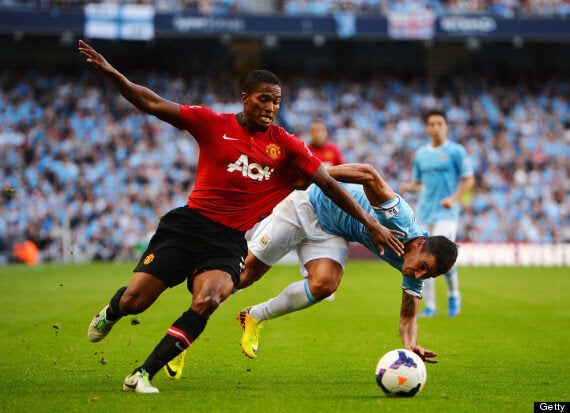 Valencia struggled even against Kolarov last week
Wayne Rooney, aside, not one United player distinguished themselves at Eastlands and, as suspected after the loss at Liverpool, too many players are too comfortable. Tom Cleverley was one of those Moyes fielded at Anfield and has since lost his place to Marouane Fellaini.
Rio Ferdinand and Nemanja Vidić might be retained, with Moyes culpable for their pedestrian performances at City, having started them twice in the previous week. Michael Carrick has begun the campaign poorly but was suffering from flu during the 4-1 reverse. Antonio Valencia and Ashley Young, however, are short of excuses and the latter is about as popular a presence at Old Trafford as Noel Gallagher.
WHO'S RODGERS' FOURTH MAN?
Whereas Moyes fielded a half-strong side Brendan Rodgers picked his strongest available 11 at Old Trafford. A draw and two defeats in a row have sullied Liverpool's bright dawn this term and suddenly a trip to Sunderland has an ominous feeling about it, especially if Gus Poyet is appointed to galvanise the hopeless Mackems.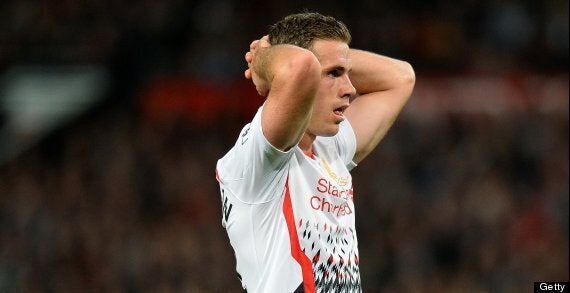 Henderson still fails to convince at Liverpool
With Luis Suárez back but Philippe Coutinho sidelined, Rodgers has a fourth interim vacancy in his attack. However much Jordan Henderson has ostensibly improved he is an incongruous presence in Liverpool's front four and is not threatening enough. Rodgers has options in Luis Alberto, overdue a first start, and Raheem Sterling, whose assault case was thrown out last week.
CAN VILLA COPE WITH KOZÁK?
Paul Lambert was positive about Christian Benteke's recovery from a hip injury but he will surely start Libor Kozák against Manchester City with an element of trepidation.
Kozák cost £7 million from Lazio - the same figure which brought Benteke to Villa Park - though early evidence suggests that's where the comparisons end. Despite his winner at Norwich a week ago, Kozák looked cumbersome up front and on Tuesday was hauled off at half-time during Villa's Capital One Cup battering at the hands of Tottenham.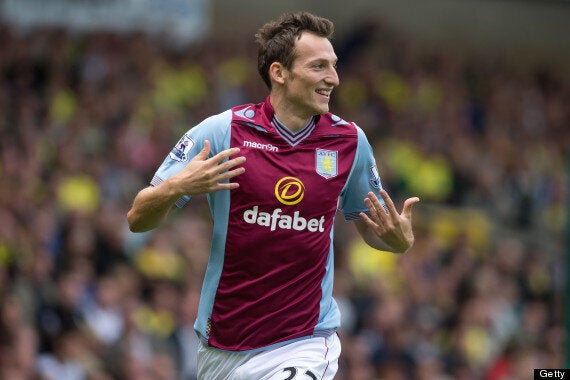 Kozák faces his toughest test up against City on Saturday
He will be up against Vincent Kompany and Matija Nastasić on Saturday, one of the best emerging centre-back pairings on the continent, and Lambert can only be grateful Villa have only one more match before the international break.
ARSENAL BRACED FOR TOUGHEST TEST
Overlooked amid Arsenal's excellent winning run is how kind the fixture computer was to them. With the exception of the north London derby (which was played at the Emirates Stadium), Arsenal have faced four teams who finished in the bottom half of the Premier League table last season.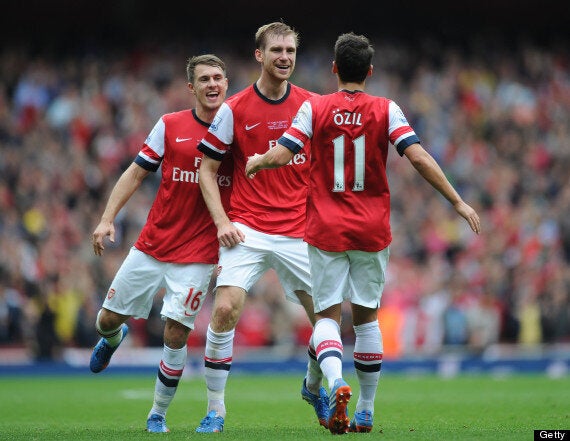 Arsenal have won four in a row in the league now
Swansea at the Liberty are on the agenda Sunday, which is a fixture not as complicated as some would have you believe. Michael Laudrup's side won just six games at home in the 2012-13 Premier League and are yet to win on home turf this campaign. Then again, victory for Arsenal would suggest they are showing genuinely resilient traits again.
SOUTHAMPTON CAN EXORCISE HOME CURSE
While they now resemble a potential top 10 side and have recorded some superb victories under Mauricio Pochettino, Southampton have won just three times in the Premier League under the Argentinian since he arrived in January.
Those three triumphs came against Manchester City, Liverpool and Chelsea, which has conveniently masked all the draws and losses, until that scarring experience of the televised goalless game with Southampton a fortnight ago.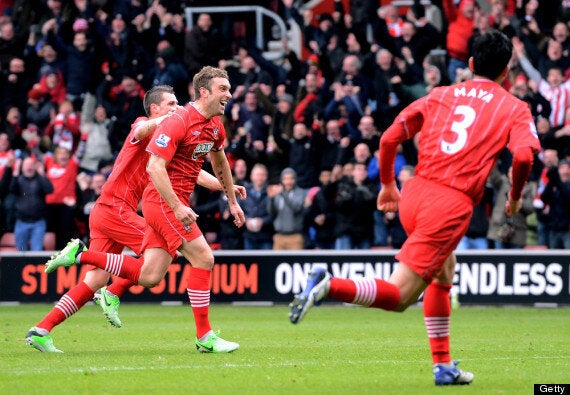 Rickie Lambert celebrates his winner against Chelsea in March
Crystal Palace, one of the worst prepared promotion sides in recent times, are ideal visitors to offer the Saints a chance to address their humdrum home form.
Popular in the Community