Thirty people have been rescued after the tour boat they were on caught fire on the Thames.
Families with children reportedly had to leap into the Thames after one of London's famous Duck Tour boats burst into flames opposite the Houses of Parliament.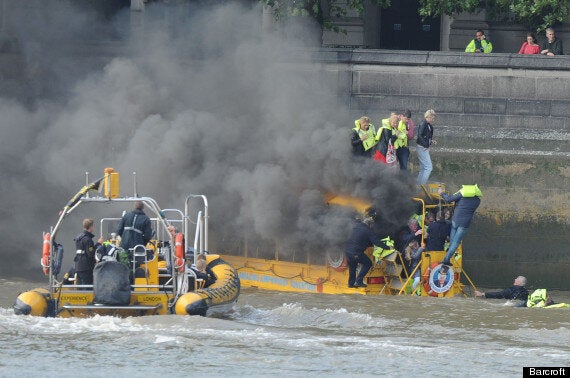 Passengers are rescued from the roof of a smoking London Duck Tours amphibious vehicle
Pictures posted by onlookers on social media sites showed how stricken passengers were hauled to safety by crews on passing tour barges after the fire broke out shortly before midday on Sunday.
The Spectator's contributing editor Harry Cole took to Twitter to describe his view of the "flaming vessel of doom."
London's Ambulance Service revealed seven patients are being treated for smoke inhalation and one man & one woman taken to hospital with minor injuries.
The fire brigade also tweeted: "Fortunately there don't seem to be any serious injuries but clearly people are cold, wet & in shock."
The cause of the fire is not yet known.
Popular in the Community