Liverpool manager Brendan Rodgers hailed Luis Suárez and Daniel Sturridge as the most lethal strikeforce in the Barclays Premier League after the duo scored in the Reds' 3-1 win at Sunderland.
Suárez marked his return to league football after a 10-game ban with a double following Sturridge's opener at the Stadium of Light, with the former Chelsea man setting up both of his teammate's goals.
Liverpool have now propelled up to second place in the table, with Sturridge and Suárez's strikes responsible for their four wins in the league.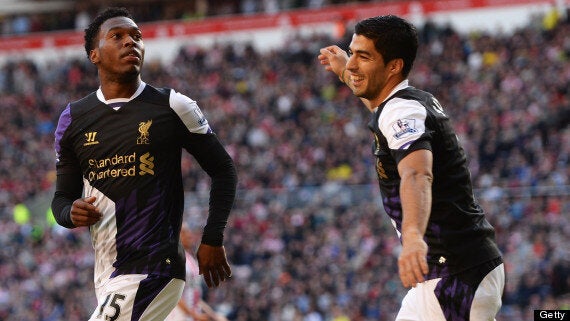 Sturridge and Suárez scored the goals in Liverpool's 3-1 win at Sunderland
Rodgers said: "I am not sure there are two better in the league, in all honesty.
"There are some wonderful partnerships around - you have got [Robin] Van Persie and [Wayne] Rooney up there, who are outstanding.
"Those two are right up there with the best in the country and you saw that today.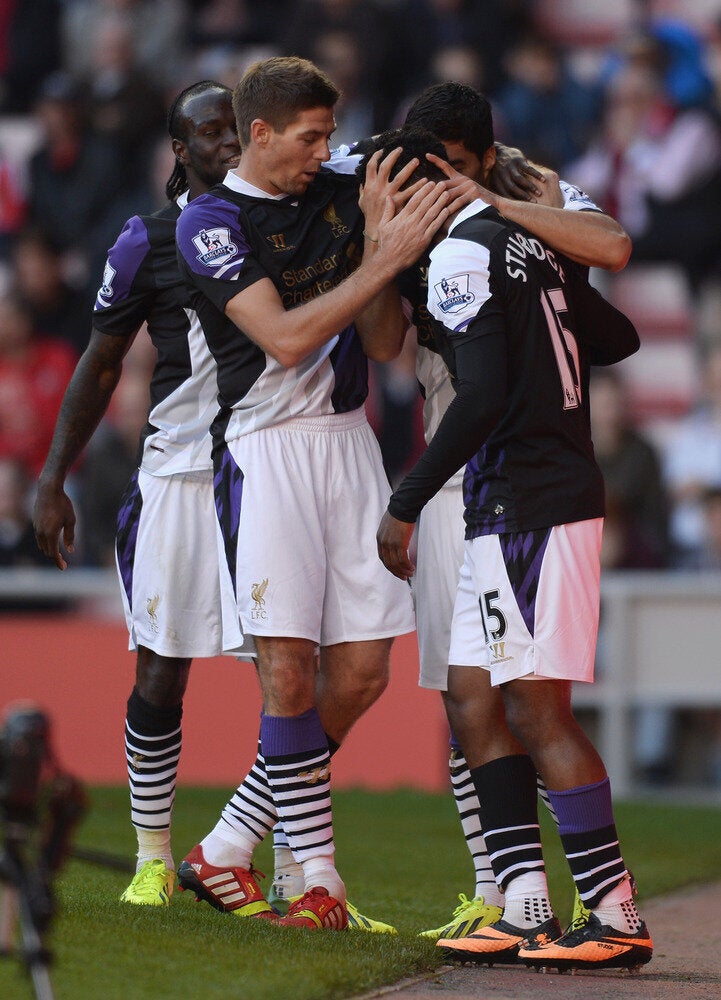 Sturridge and Suárez
"The [second] goal, Steven Gerrard makes an absolutely breathtaking pass out of pressure and Daniel's touch, pace and power takes him in, and he has shown that quality just to roll the ball in for Luis to get his finish.
"Those two will only get better. You can see their understanding - we have done a lot of work with them together in training and they looked very, very bright today.
"They are two different types as well, which makes it hard for defenders because one has pace, one has power and two good feet, and the other is a wriggler and can shift his body very quickly and ends up in the box.
"The dynamics of them are very good."
Sturridge's 28th-minute opener was fortuitous, though. The England international attempted to head home Gerrard's left-wing corner, but actually bundled the ball over the line with his arm, although neither Howard Webb or linesman Darren Can noticed.
Suárez, making his first league appearance since 21 April, then took over, tapping home from close range from Sturridge's ball eight minutes before the break, and then after Emanuele Giaccherini had pulled a goal back seven minutes into the second half, finishing off a fine counter-attack by steering home the same man's cross.
Rodgers praised the Uruguay international's mental strength on his return from his extended lay-off.
He said: "He is not fazed by much. He has a remarkable mentality. His determination, the steel in his mindset, is phenomenal.
"He is just so focused and for us, he is like a new signing, really, coming back into the team.
"It's great for the team and it's great for the supporters. Our supporters deserve to see someone of that quality, but his talent deserves to be out on the field rather than sitting in the stand, and that's something that we are working very hard in order to make sure that happens this season."
Popular in the Community