Duck boat tours in London have been suspended after a dramatic blaze that forced passengers to leap into the Thames.
On Monday morning the operator, London Duck Tours, confirmed it would be running a "land only service".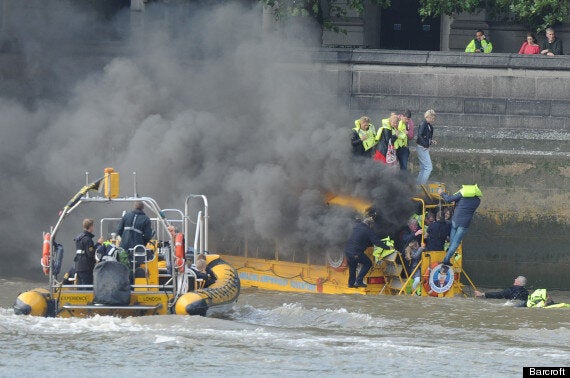 Passengers are rescued from the roof of a smoking London Duck Tours amphibious vehicle
Passengers were hauled to safety by crews on passing tour barges after the fire broke out shortly before midday on Sunday.
London Fire Brigade said the beleaguered boat was 33% damaged by the blaze.
"Approximately 30 people were rescued by passing tourist boats," a spokesman said. "All persons were accounted for."
Many on board the London Duck Tours boat jumped into the water as flames took hold and thick black smoke billowed from the amphibious vessel.
The three people who were taken to St Thomas' Hospital for smoke inhalation have all now been discharged, the LDT said.
Other tourists were treated at the scene of the fire, opposite the Houses of Parliament.
In a statement on the LDT website, managing director John Bigos said the company "acknowledges the distressing situation" experienced by the passengers and the company is "fully co-operating" with the investigators and regulatory authorities about the fire.
Bigos said that all passengers were safely evacuated and that there were no major injuries, adding: "London Duck Tours operates to the highest safety standards, and at this early stage it is not possible to speculate on the reason for the incident.
"Until the cause is established, the company will not be operating on the river and should technical or safety modifications be required to our fleet, these will be introduced prior to the service recommencing."
Tours last around an hour and a quarter, with around 30 minutes spent on the river. They are advertised as the "perfect activity for couples, families, friends or if you're looking for things to do in London for kids".
According to the company, each boat is modified to meet "stringent" safety regulations set by road and river
Each vehicle seats 30 passengers, has a public address system and is said to be fitted with full safety equipment.