Chelsea manager José Mourinho walked out of his pre-match press conference on the eve of the must win Champions League Group E clash with Steaua Bucharest.
Mourinho's mood reflected the stormy weather in the Romanian capital as the Portuguese shortened his pre-match media conference to stride out to oversee the final training session under the roof at the National Arena.
The Portuguese is usually jovial and cordial at his pre-match inquisitions, but with the Blues looking to bounce back from the opening round loss at home to Basle Mourinho showed the first signs of strain when asked about absent forward Kevin de Bruyne.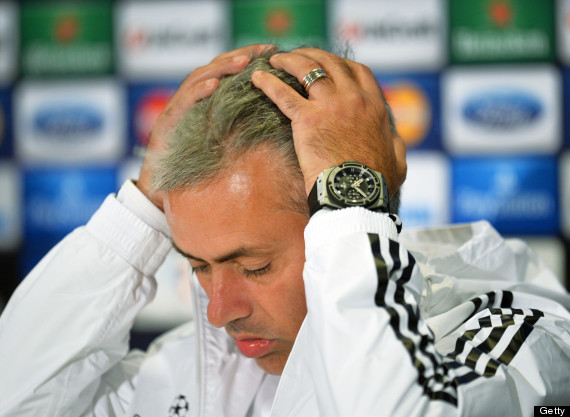 Mourinho feels the strain in Bucharest
With Juan Mata told he will start in Bucharest after his man of the match performance at Tottenham on Saturday, De Bruyne was told he was not required and was left at home alongside his fellow Belgian Eden Hazard, who has an ankle injury.
"This is fantastic because nobody asks me about Mata," Mourinho said.
"You are for three weeks speaking about Mata, and now you are speaking about Kevin de Bruyne.
"So you are not interested in the players that are playing? You are interested in the players that are not playing.
"He was not selected. It was my decision. Only 11 can play and 18 can be selected.
"I try to decide by what they do on the pitch when they play and what they do in training.
"I try to be honest with Juan and say that he's going to play tomorrow, because of what he did in training and because of what he did in the matches he played.
"With Kevin it's the same. He's not selected because I didn't like the match he played against Swindon and I didn't like the way he was training.
"But you have this tendency to only ask about the guys that are not selected.
"See you tomorrow."