These pictures show the moment Italy's former prime minister Silvio Berlusconi unexpectedly dropped his bid to topple the Italian government in a last-minute U-turn.
The dramatic move allowed current Prime Minister Enrico Letta to win a confidence vote and keep his coalition government alive. Enrico Letta has won a confidence vote after a last-minute U-turn by former PM Silvio Berlusconi
Berlusconi had initially demanded that five ministers from his centre-right People of Freedom party (PDL) leave the government, prompting the vote.
But his orders backfired as members of the party signalled they would defy his orders and back the government.
The reversal marks one of Berlusconi's biggest defeats in almost 20 years in Italian politics as the rebellion within his ranks threatened to rip the PDL apart.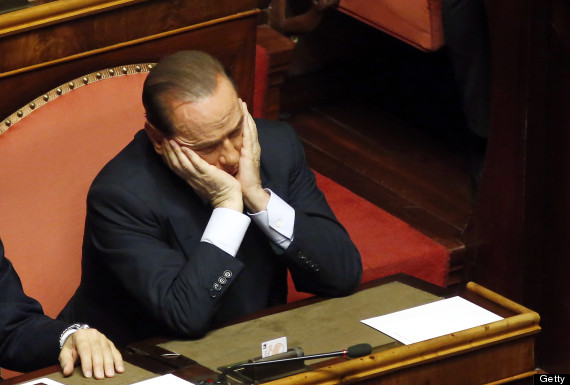 Berlusconi saved prime minister Enrico Letta's fragile government
Mr Letta had earlier defended his government's performance and said Italy "runs a risk, a fatal risk" if it were to fall.
Berlusconi had accused Mr Letta of allowing his "political assassination through judicial means" - a reference to Berlusconi's criminal conviction for tax fraud in August.
A Senate committee will vote on whether to expel Berlusconi because of his conviction later this week.