A married couple who met at a Bristol bus stop eight years ago have been handed the seat and sign to keep as a memento.
Aly Hussein repeatedly spotted Michala at the stop on Bristol's Gloucester Road - and eventually summoned up the nerve to talk to her.
He said: "Every day I used to see her at the same time in the same place and really wanted to get to know her so one day I took the opportunity to say hello.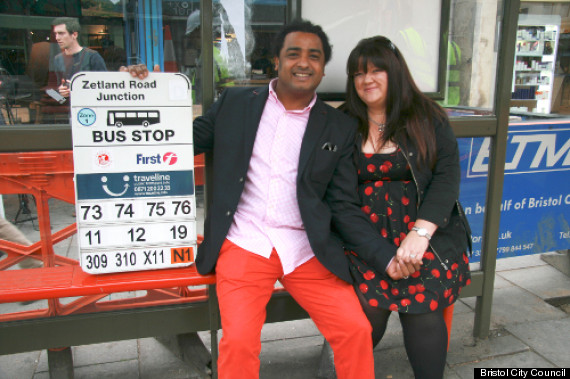 The couple with their new furniture
"Our daily chats led to me asking her out properly. We've now been married for three years but I'll never forget how we met and it's wonderful that we can keep a little bit of our history forever."
The couple's friend, Tat Mersy, noticed the council were going to replace the stop and wrote to inform them of its significance.
She wrote: "Whilst I don't object to its being relocated I would ask you to spare a thought for Mr Aly and Mrs Michala Hussein," reports Bristol 247.
"Aly has run the successful Blue Lagoon Bar for years and met and wooed his future wife, Michala, at that bus stop outside the bar. Michala has said that seeing the bus stop go is very emotional for them both.
"Could you possibly find it in your hearts to gift them a small piece of the bus stop? I know they would be very touched at such a generous gesture from the council."