PA
The historic Crystal Palace is set to be brought back to life under ambitious plans from a Chinese tycoon.
The lavish South East London landmark was destroyed by fire in 1936, with just a few pillars remaining.
On Thursday, plans were unveiled to rebuild what was once the largest glass structure in the world.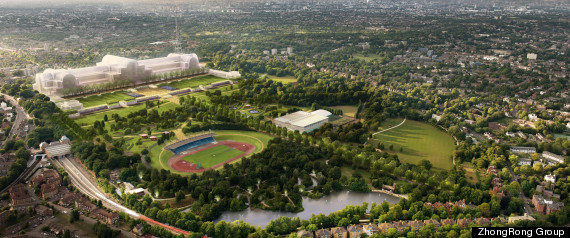 The new building would be on the site of the old one
It is to be rebuilt on the site of the original Victorian building in south-east London, according to the plans being announced by the Chinese investment firm called the ZhongRong Group.
The new build is set to be of "the same size and scale" as the gigantic pre-fabricated building of iron and glass designed by Joseph Paxton for the 1851 Great Exhibition in Hyde Park, a spokesman said.
It was the largest glass structure in the world before it was destroyed by fire in 1936.
It was later expanded and relocated to south London. The area became known as Crystal Palace.
The surrounding public park is also to be restored "to its former glory through landscaping, planting and new and improved facilities for the public," the spokesman added.
STORY CONTINUES BELOW SLIDESHOW
Most of the original site is now unused by the public with a small section used for small-scale temporary events.
A year of consultation and design development before plans could be formally submitted by autumn 2014 and winter 2015 is being earmarked for work on the big build to begin.
Chinese real estate mogul Ni Zhaoxing, the chairman of the ZhongRong Group, was set to attend the launch in south-east London.
The self-made billionaire has interests in real estate and energy.
He invested in Shanghai real estate more than a decade ago, and has reaped profits from its subsequent boom, through projects such as ZhongRong Jasper Tower in the Lujiazui financial district, according to Forbes.
The plans are also supported by London mayor Boris Johnson and Bromley Council leader Stephen Carr who are set to attend the launch.
The original building, with its skeleton of cast-iron columns supporting a network of girders, was based on a 24ft (7.3m) module of parts pre-fabricated in Birmingham. It not only was innovative technologically, but also used many other industrial skills and inventions of the time, according to the Victoria and Albert Museum.
The Crystal Palace used 300,000 sheets in the largest size ever made (4ft 1in x 10in/1.3m x 25.3cm).
Steam engines on site drove the machinery to cut the wooden glazing bars as well as the 24 miles of Mr Paxton's patent guttering used to hold the glass in position on his simple but effective ridge and furrow roof.