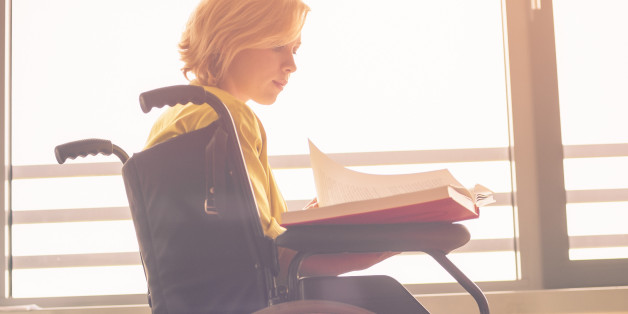 Getty
Universities are failing disabled students, with only half having lecture theatres and libraries which can be accessed by wheelchairs, a damning report has revealed.
Only a quarter of institutions considered disabled students when planning freshers' week information, with almost a third of students saying they felt limited where they could choose to study.
The research, conducted by the Trailblazers network, part of the Muscular Dystrophy Campaign charity, also found only a third of universities have a student society representing disabled students. Half of institutions said not all inter-campus transport was accessible, with 60% of students saying not enough information regarding accessible accommodation was available on university websites.
The Equality Challenge Unit backed the findings, saying there were "a number" of changes which institutions should make.
Recent graduate Matilda Ibini, who attended London Metropolitan University, said she even contemplated dropping out due to the lack of support.
"My first year at university was tough. Information about support was mostly geared towards funding, care and equipment - it completely overlooked disabled students wanting to get stuck in to campus life like everyone else.
"To make matters worse, I went to my university through clearing and I was so worried about getting the right care and support in place, that I missed out on valuable social opportunities," Ibini continued. "In fact, it wasn't until my third and final year that I actually felt like part of the university community.
"Going to university has definitely grown my confidence in my capabilities; it's just such a shame that it took such a long time to get to that point."
Trailblazers project manager Tanvi Vyas urged universities to take "simple measures".
"It is really positive that an increasing number of disabled students are entering higher education. However, we continue to hear about how many universities are still missing the mark when it comes to helping people planning on entering higher education - and helping them to complete their time there.
"There are plenty of simple measures that universities can take," Vyas added. "Providing inclusive freshers' guides, handy information on accessible transport and buildings and support networks can all make a huge difference to students adapting to campus life. We also need the government and local authorities to examine the issue of relocating care packages, which continues to be an enormous struggle for many students studying away from home."
Chris Brill, senior policy adviser for the ECU, which helps universities ensure equality for staff and students, said: "Trailblazers' audit highlights a number of small changes that would make big improvements for students. For example, making sure information is clearly signposted on websites, and ensuring the needs of disabled students are reflected in freshers' week programmes.
"Students' unions, often a conduit between universities and students, could also be encouraged to consider how they involve disabled students in the democratic structures.
"Through this, we may see an increase in societies representing disabled students, and better involvement of disabled people in higher education."