The problems facing education in challenging situations around the world have dominated the opening session of the One Young World Summit in South Africa.
The Education Plenary Session, which kicked off the major gathering of youth delegates in Johannesburg heard delegates detailing experiences from countries in the Middle East and Africa amongst others under the umbrella heading of 'How can tomorrow's skills be taught today'.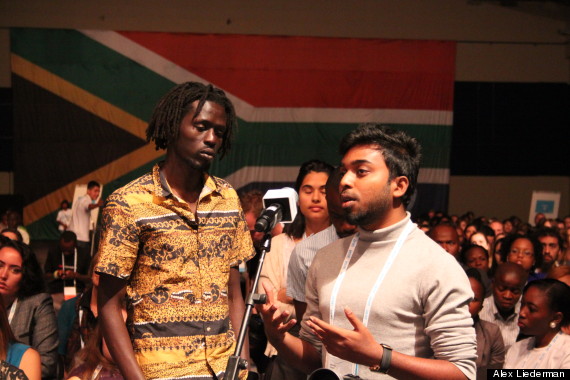 Delegates joining in the education discussion in Johannesburg on Thursday
Introduced by global figures including former South Africa rugby captain Francois Pienaar and musician Emmanuel Jal, the six delegates who addressed the session shared their experiences of combatting education challenges from around the world.
Idris Barzani from Kurdistan explained the impact that the Syrian crisis is having on children, commenting that "refugee camps are not ideal settings for schools". He is rolling out a charity which is providing refugee children with safe spaces to learn.
One Young World Sessions Live
The One Young World delegation also heard of the dire situation in Mali where only 2% of women make it to university. Bintou Soumarou is striving to keep girls in education in order to prevent them from being forced to marry early. Mohamed Camara is similarly working to alleviate poverty through education: born into an illiterate family, his organisation Slum2School has given 600 children scholarship to schools in under a year.
SEE ALSO:

The Education Emergency Facing Syria's Children
The power of technology and the internet was made evident by Carlos Aravena and Migan Migarian who founded poliglota.com and teachsurfing.com respectively.
The interconnectedness of the young generation is forcing new models of education and learning to be developed, allowing people who would never before had access to schooling to gain the skills to work, create jobs and empower their communities.
The One Young World Summit runs until Saturday.