The new Beats Studio headphones have been completely "reimagined" (according to Beats), with a lighter build, a stronger design and improved battery performance (£269.95 from Beats).
Key Features:
Sound tuned with the new Beats Acoustic Engine for 'reimagined' Beats sound
Lighter and stronger design with no visible screws or straight lines.
Active noise cancellation
Integral 20-hour rechargable battery, with auto-off feature
The Pitch
"The world's most famous headphone has been completely redesigned and reimagined. The new Beats Studio® is lighter, sexier, stronger, and more comfortable, with precision sound, Adaptive Noise Canceling, a 20-hour rechargeable battery, and RemoteTalk."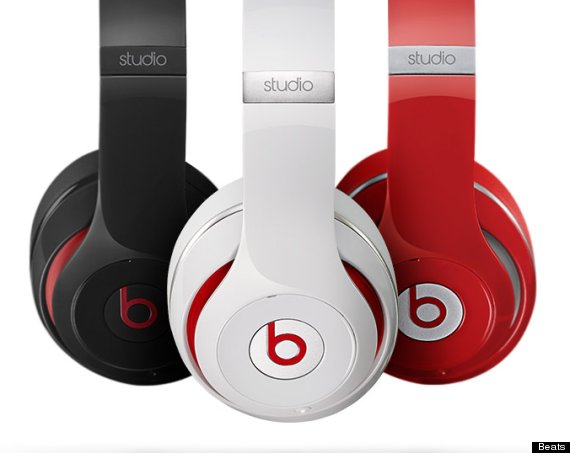 Verdict
It's difficult to know just who's buying all these Beats By Dre headphones. The brand has hoovered up almost two-thirds of the high-end headphones market, but it's rare to read a review that doesn't bemoan their bass-above-all-else sound quality, plastic materials and bulky design.
The new Beats Studio headphones feel like an attempt to win back those doubters, and start to justify their own cost, while also keeping their own dedicated fanbase on side. And in the main, it looks like they've succeeded. Not just because the review scores have picked up, but because there are genuine improvements here - and they might just put Beats Studio back on the map for audiophiles, as well as fashionistas.
The most immediate difference is physical. The new Beats Studio sets feel more expensive, and more impressive than ever. They are much lighter than before, and are visually much less obnoxious. On a basic level they don't stick out as far from your head, and look less like you're trying to audition for a live adaptation of Jet Set Radio. Most of the key design touches are there - the same white/black/red colours, the plastic and the 'b' sign on each earpiece. But the overall sensation is of something a bit more mature and refined, but still with an urban, consumerist edge.
Unfortunately they're still a magnet for fingerprints, which means if you want them to look their best you'll be making full use of the included microfibre cloth. And the false-leather around the cups is pretty weak - feeling more like a plastic bag than a cow's hide. But they're comfortable to wear, fold up neatly into the included case and are tough enough to handle the commute for months without any issues. The decision to remove the visible screws and straight lines was a good one. Everyone will still know you're wearing Beats - if that's what you want great, if not, move along. But either way they'll feel better over your ears.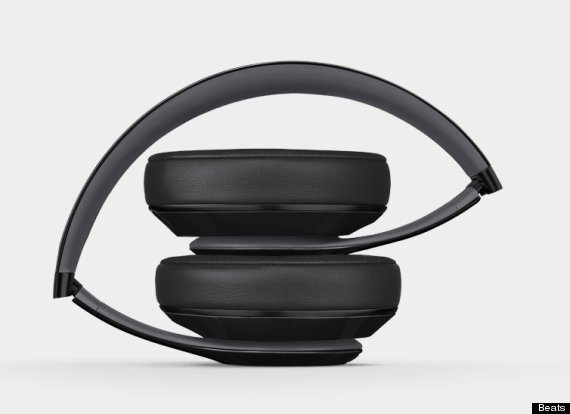 Unlike the old model, which used AAA cells, the new Beats Studio have a in-built rechargeable lithium battery. Beats says it should last 20 hours on a full charge, but once it's empty that's it - you're done. You'll have to recharge via MicroUSB before you can listen again. That's a serious downside, and you'll have to decide if you want another gadget to charge up every day. The addition of a five LED fuel gauge helps, and the auto-off feature when you unplug the headphone jack from the headset is neat, but we can see ourselves forgetting to do that quite often. It's a hassle, basically.
Luckily the battery is at least doing something useful: the active noise cancellation is improved this time around, and makes for a clearer, cleaner sound overall. There's some hiss when you're not listening to music, but it's not a huge issue and isn't a problem when something's playing. And when it comes to sound, you're still getting the classic Beats experience. Which is to say… BASS. Lots of bass. Bass all over the club, yo, or whatever.
This type of sound is the Beats signature -- it's boomtastic, but it's not for everyone. That said, the 2013 Studios are definitely a step up from the old model on any objective scale. The new Beats Acoustic Engine result in a more balanced sound, and unlike with the old Beats, you'll still be able to hear the rest of the track over the low end - which was a genuine issue before. There's some detail here, and nuance, even if the noise-cancelling hiss does prove distracting. It's just overlaid on top of a sonic-boom assault. That's just life in the Beats universe.
Included in the box you get the headphones, the case, two audio cables, a USB charger and the microfibre cable. And it's a nice box too, with nice foldy bits and whatnot. But then there's the sticker on the front - £269. And that's the rub. It's a lot. No, it's not fair to compare the Beats to similar headphones designed for listening at home, or actually in the studio. These are commuting, urban headphones for a noisy world. And for the right person, who has the money to spend, they're a good choice for that use case. But if you're looking for the best sound possible for your money, you might still want to look elsewhere. Beats may be the dominant high-end headphone commercially, and with this upgrade they're better than ever, bit they're still not good enough to be the only game in town.