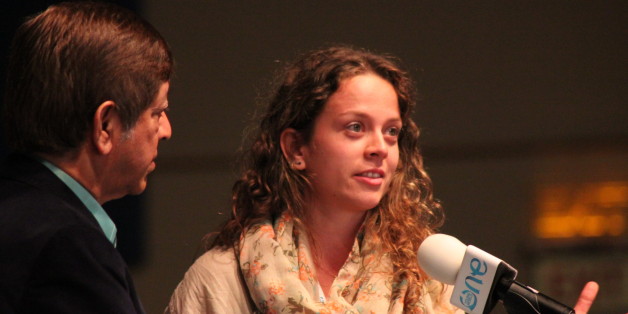 Alex Liederman
The challenges facing young people and youth unemployment have been tackled by delegates at the One Young World Summit.
However, rather than being defeatist about the problems of today, the speakers demonstrated that young people have the ability to be the solution to youth unemployment and not just the victims.
The six speakers from UK, Burundi, France, Nigeria, China and Turkey were joined on stage by One Young World Counsellors, Arriana Huffington, Antony Jenkins, Zafar Siddiqi, James Chau and Kathy Calvin.
Adelard Kakunze from Burundi revealed the hidden employment challenges facing young people in his country.
One Young World Sessions Live
"Ninety four per cent of jobs come from the informal private sector - agriculture, trades and sole traders," he said, "But these jobs are often not sustainable, temporary and don't provide a liveable wage - worse they hide the true level of unemployment."
In response to this, Adelard created Burundi 3.0, a mobile phone service that makes it easier for young people to find work by providing daily job alerts.
Efehan Danisman from Turkey and Rukayat Opoola from Nigeria addressed the need for young people to be given the right skills for the job market.
Efehan todl the audience: "Our education systems should help kids and young people learn how to take initiative and calculable risk but most systems focus instead on learning facts and figures, theories; learnt by rote or repetition."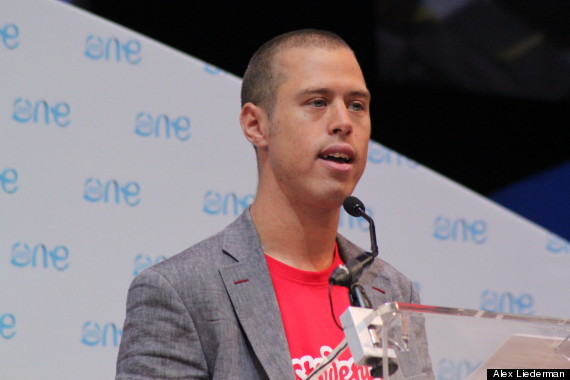 James Eder of studentbeans.com talks to delegates
Efehan is the co-founder of Yasom, an informal education centre that has provided training to 2,000 young people in Istanbul. Rukayat presented her work creating the Rukkie Foundation which she explained has "provided over 300 people with vocational training, and continues to provide mentoring after the training".
Meanwhile, James Eder, co-founder of studentbeans.com, showed the role of young people as job creators.
"At The Beans Group we have signed up over 1.2 million users, we have a team of almost 40 people working for us and over 20 new job opportunities," he said.
Yiwen Wu,who works for Nokia, called upon the delegation to put pressure on big business to support entrepreneurship by sharing their technologies.
"Large corporations can help entrepreneurs to create new business and help to solve youth unemployment," he said.
"Why not challenge them to share technology to create value for shareholders and meanwhile to create the valuable job opportunities for the young generation in their country?"
Jeremy Lamri from France told his fellow 18–30 year olds that it was their job "to find solutions to youth unemployment".
"We must adapt to a new world where every year, over 40 million young people are entering the workforce," he added.
Jeremy has launched a solution to the 'no experience, no job – no job, no experience' dilemma facing many school leavers and recent graduates. Monkey Tie is the first online platform dedicated to matching recruiters with candidates by factoring in corporate culture and personality.