Joanna Forest was diagnosed with breast cancer at just 21 years old.
Previously a bright and confident young woman with dreams of becoming an actress and singer, auditions were replaced by trips to the hospital for treatment.
Her diagnosis was a surprise to everyone - family, medical staff, and most of all Joanna - and the lack of support and resources available for a woman of her age took their toll on her confidence.
Fast-forward 15 years and Joanna is completely unrecognisable to the young woman who kept her diagnosis a secret.
She reignited her passion for performing, working as a singer and actress, and dedicates her spare time to putting on a giant plastic boob for Coppafeel! to shout loud and proud about breast cancer.
We caught up with her to find out more.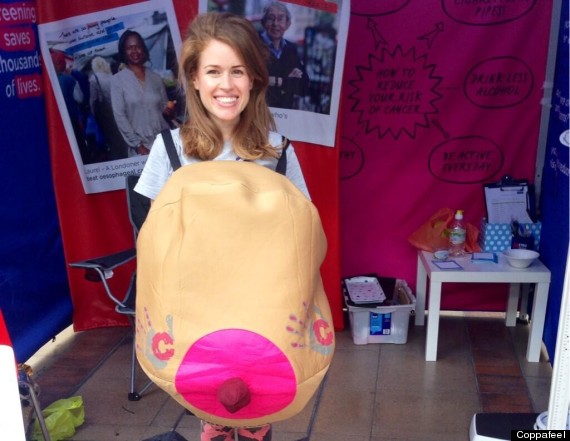 What is the role of a Boobette?
Think of the 'Boobettes' as the Power Ranges of the boob world! We're a group of young women who have either had breast cancer, are still going through treatment or have had a breast cancer scare.
We travel all over speaking to young people about breast cancer to encourage them to check regularly for signs - 'getting to know your boobs' could save your life.
Describe a day in the life of a Boobette
A day as a Boobette can be pretty varied - I could be spreading the message to sixth formers or a mother and baby group, visiting a fresher's fair or supporting a health day at a large corporation.
We share our own breast cancer experiences, highlight the important information and explain signs and symptoms. We can talk to big groups of one-to-one, it depends.
And as you can see from my picture, we also wear giant boobs at events to spread awareness - they always attract a lot of attention!
Are the boobs heavy?
Not at all. They are filled with balloons and are so light that we even have supporters running the half-marathons, such as the Bath Half recently, dressed as giant boobs.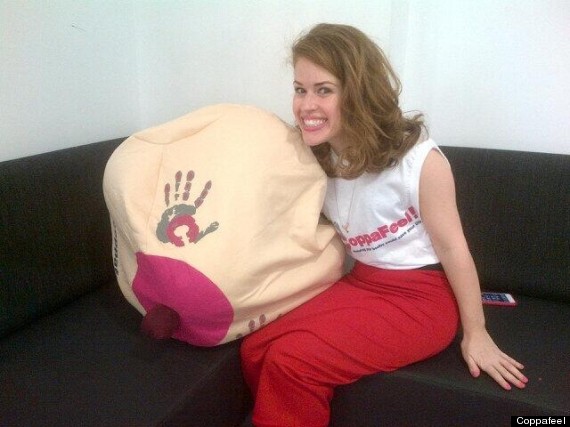 Tell me about your own breast cancer experience
When I was 21 I found a lump in my breast. It appeared out of nowhere and was quite large - I hadn't been checking myself, but there was no way I could have missed this lump!
I went to the doctor, who assured me it was nothing to worry about - that I was "too young" to have breast cancer.
But, due to the size, I decided to get the lump removed. I'm so glad I did, because when I returned to hospital to have my stitches out I was told I had breast cancer. Actually, my mum was told before me - another thing they thought I was "too young" for.
How did you feel finding out you had breast cancer at such a young age?
It was completely unexpected and I knew I would have to go through some horrible treatment to get better.
But I was very lucky that my little brother Sam was born at this time. So throughout a further operation, radiotherapy and chemotherapy, I had a lovely baby to spend time with!
See Also:

Breast Cancer Symptoms: How To Check Your Breasts For Lumps And Changes

Time-Lapse Video Shows One Year of Breast Cancer Treatment In One Minute
How did the diagnosis affect you?
I stopped socialising altogether - I didn't have the energy to keep answering the questions on my progress and how I was. It's not what you would like to be doing at 21, but I am happy to say I have definitely made up for it since!
Breast cancer really affected my confidence. I didn't realise how much self-esteem I had lost until it gradually came back to me. It was probably a mixture of feeling unattractive, unwell and tired.
It seemed liked the confident girl who had loved performing had disappeared forever, but I knew I wanted to get her back. I gradually started auditioning again and with each job I secured I remembered how much I loved my job and my ambition and confidence returned.
How did other people react to your diagnosis?
My family were amazing throughout. They never showed me they were upset or worried and were completely clam throughout. That was exactly what I needed.
I was very secretive about my breast cancer. I would only talk to my friend Lucy and she came with me to some of my chemotherapy treatments.
And what are you doing now?
Since having the all-clear (the end to treatment and regular check-ups), I've been working again as an actress/singer. And I also volunteer as a Boobette.
Why did you want to get involved in Coppafeel?
It's the only charity of it's kind to target breast cancer and young people. I It's getting a very serious message across but in a playful and accessible way! I wish it had been around for me.
I was very limited on resources when I was diagnosed. It was before the internet, so I had to rely on books and leaflets to get my information.
There is so much information to take in when you are hit with the C word. Some issues, such as fertility, only relate to younger women and it would have been helpful to have had more advice on these matters.
Breast Cancer information at that time was definitely aimed at older women. It's fantastic that Coppafeel! is now here to create awareness that Breast Cancer might not be the illness you think it is.
To find out more about Coppafeel! or to volunteer as a Boobette, visit their website.