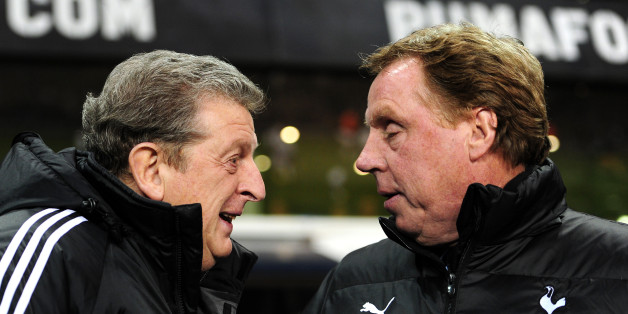 PA
Roy Hodgson admitted on Match of the Day this was the "biggest week" of his managerial career as he attempts to secure World Cup qualification for England, but already he is being undermined.
The serialisation of Harry Redknapp's autobiography has aimed both barrels at the Football Association for overlooking him in favour of Hodgson 16 months ago.
Redknapp "would not trust the FA to show him a good manager if their lives depended on it" and Hodgson is described as "a man who is more their cup of tea".
"If you look at the people from football that get on at the FA, men like Sir Trevor Brooking or Gareth Southgate, they do all seem a certain type," Redknapp says. "The FA offices seem to be the one area of the game where snobbery exists."
While Redknapp's argument is not without its merits the timing is cheap.
It is ironic the Mail, who put Britain's prospects at heart, should cheerlead Redknapp when he is an extraneous issue for the national side.
Hodgson divides opinion and will probably never convince the masses when he was employed to lay down the groundwork but England still can't keep the ball on the ground.
But Redknapp's critique is unhelpful. He talks of England's lack of an identity, champions former coach Glenn Hoddle's credentials and teases supporters of a style which is seemingly the antithesis of Hodgson's approach.
"I told him [Brendan Rodgers] I wanted England to play with as much technical ambition as Swansea," he explains of plans to recruit Rodgers as his assistant for Euro 2012. "He was up for it."
"If I got the job, he said, he would speak to the people at Swansea to get their permission. 'It would be a great experience for you, Brendan,' I told him. 'I want England to play like you play. Pass the ball, play and play and play.'"
Hodgson's archaic tactics for England's 0-0 draw in Ukraine have gifted Redknapp an open goal.
The QPR manager isn't the only one to capitalise on such a scenario. Sir Alex Ferguson hasn't missed a trick, either, with his autobiography scheduled to be released on Wayne Rooney's birthday.
But however much some factions of the media suggested otherwise, Redknapp was not as popular nationwide as he was depicted as after the 2010 World Cup.
Southampton and Portsmouth fans are united in their loathing for him and his blatant flirtation with the England job irked plenty of Spurs fans. Last season he suffered his second relegation from the Premier League in eight years.
It's time to move on.