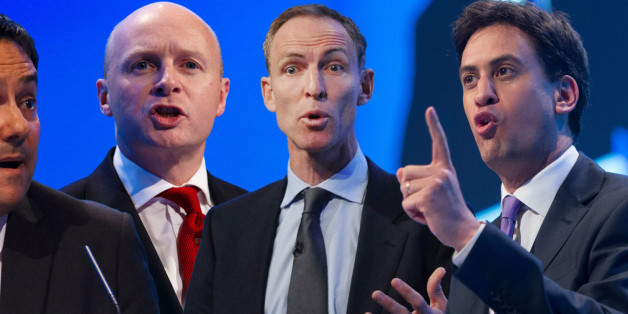 PA
Ed Miliband has dramatically reshaped his shadow cabinet ready for the general election, demoting Blairites and installing women in key posts.
The Labour leader defied calls for Andy Burnham to be ousted from the health brief and also kept Ed Balls as shadow chancellor.
But he ruthlessly shifted Liam Byrne as shadow work and pensions secretary to the junior post in charge of higher education - with no seat at the top table. Byrne, who infamously left a note for the incoming coalition government that there was "no money left", has seen his DWP brief passed to Rachel Reeves.
Jim Murphy, who ran David Miliband's 2010 leadership campaign, has been demoted to shadow international development policy, with Vernon Coaker taking over as shadow defence secretary.
And Stephen Twigg, who was seen to have struggled against Michael Gove, has been ejected from his post as shadow education secretary in favour of TV historian Tristram Hunt.
Twilight of the Blairites will lead to a new dawn for socialism.

— Paul Flynn (@Paulflynnmp) October 7, 2013
A Labour Party source insisted the demotion of senior Blairites was a coincidence. "This isn't about factions, it's about rewarding talent and ensuring the shadow cabinet properly represents women," the source told The Huffington Post UK.
And the party pointed to the appointment of Douglas Alexander as general election coordinator and Lord Falconer to a position advising Miliband on the transition to government as demonstrating Blairites were still in top jobs.
Demoted MPs were also quick to use Twitter to insist they were happy with Miliband's decision. Writing on his blog Murphy said: "I may have changed jobs but l will go about this new role with just as much commitment and energy."
It has been an honour to serve for two years as Labour's Shadow Education Secretary and I wish @TristramHuntMP every success in his new role

— Stephen Twigg (@StephenTwigg) October 7, 2013
Goodbye to Defence. Hello to International Development http://t.co/MLphTJn5OQ

— Jim Murphy (@jimmurphymp) October 7, 2013
But some MPs on the left of the party were delighted with the changes. Newport West MP Paul Flynn tweeted: "Twilight of the Blairites will lead to a new dawn for socialism."
Maria Eagle, a strong supporter of the controversial HS2 high-speed rail project, has been moved to shadow environment secretary - with Mary Creagh moving from environment to transport.
Miliband's decision to strip Eagle of the transport brief suggests he is preparing the ground to ditch support for HS2. Ed Balls questioned the need for the multi-billion pound train line during Labour's party conference last month.
Michael Dugher, a former spokesman for Gordon Brown, has been promoted to shadow Cabinet Office minister. And Brown's former adviser Spencer Livermore is being drafted in to manage the general election campaign.
Labour sources said 44% of the shadow cabinet were now women, and 31% were from the 2010 Commons intake.
SEE ALSO: Norman Baker, Dr David Kelly Conspiracy Theorist, New Home Office Minister