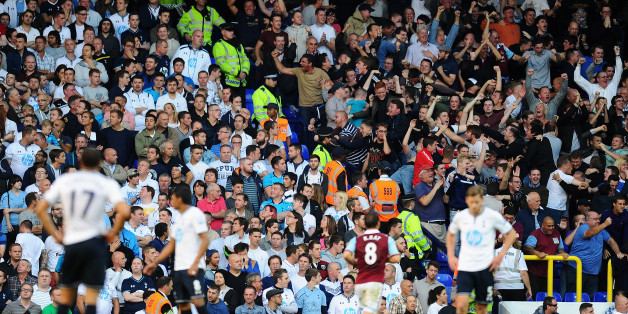 Getty
A Tottenham supporter has been arrested for allegedly using the word "Yid" in chants at Sunday's match against West Ham, even though thousands AIRED the "Y" word.
Police had warned fans of both teams prior to kick-off at White Hart Lane that they could be arrested if they sang the word.
However, the 51-year-old man was held on suspicion of committing a section five public order offence at half-time in the stadium's East Stand.
Tottenham fans sent a clear message of defiance to police at the match by chanting "Yid army" during the London derby.
ALLARDYCE THE ENTERTAINER AS WEST HAM WALLOP SPURS 3-0
Yid is a term for Jew which is often considered derogatory, but fans of the north London club chant the word as an act of defiance against those who taunt them because of their links with the Jewish community.
Despite the police warning, home fans sang "Yid army" and "We'll sing what we want" before kick-off and the chants did not cease throughout the match, which ended in a surprise 3-0 win to West Ham.
As is customary at all Spurs matches, home fans hailed their own star players by shouting "Yiddo" at them. "Jermain Defoe, he's a Yiddo" was often heard throughout the game.
On one occasion when Spurs fans sang "Yids", West Ham supporters responded with loud shouts of "Racists! Racists!"
RAVEL MORRISON A 'GENIUS', SAYS ALLARDYCE AFTER WONDER GOAL
There was a strong police presence at the game, but there was no visible evidence of any mass arrests.
Last season in the corresponding fixture, a small section of West Ham fans shocked the football world by using antisemitic language.
Just four days after Spurs fan Ashley Mills was stabbed in Rome, Hammers fans sang "Can we stab you every week?" and hissed, mimicking the gassing of Jews in the Holocaust.
But after pleas from owners David Sullivan and David Gold, as well as manager Sam Allardyce, there was no such chanting from the away end at Sunday's match.