Tottenham Hotspur fans defiantly bellowed the "Yid Army" chant in their 3-1 Europa League win over Maribor on Thursday night despite some quarters accusing them of "casual racism".
Fans chanted "We'll sing what we want" after the Society of Black Lawyers' chair Peter Herbert had earlier this week threatened to report the club and its supporters for anti-semitism if Spurs supporters continued to air the word 'Yid'.
Jermain Defoe, who scored a hat-trick in the victory, was again affectionately referred as a "Yiddo" and serenaded with his "Jermain Defoe, he's a Yiddo" ditty.
Spurs defended their following and the Metropolitan Police also reassured supporters they would not be prosecuted if they used the word at matches.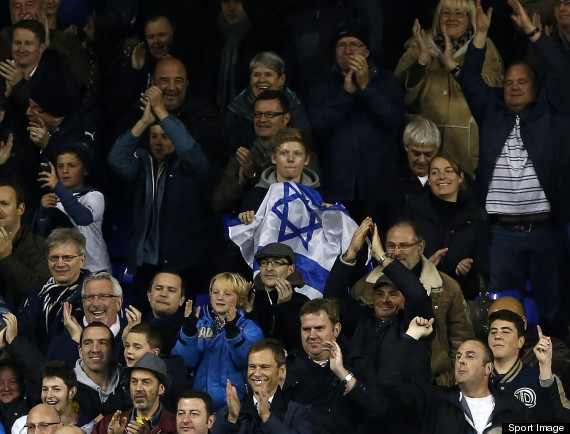 A Spurs fan brandishes a Star of David flag
But Herbert's organisation, which reported referee Mark Clattenburg to the police after he was accused of allegedly racially abusing Chelsea midfielder John Obi Mikel, said Tottenham are "out of touch".
North London club Spurs adopted the Yid badge of identity long ago due to a large portion of their support being Jewish. Their fans have however been subjected to derogatory versions of the chant, with references to the millions of Jews who perished during the Holocaust.
David Baddiel, a Jewish Chelsea fan, has spoken out against the club's stance and declared Yid a "a race-hate word".
Baddiel was behind a Kick It Out-backed campaign video titled "The Y Word" last year which was highly criticised by some Tottenham fans who accused him of victimising their own support. The two minutes and 14 seconds short film showed the offensive chants appeared to emanate from opposition fans.
THE Y WORD SHORT FILM
When Baddiel co-hosted and wrote the popular 90s TV programme Fantasy Football he once sardonically referenced Spurs' Jewish identity and its 'effect' on former players in a brief sketch.
FANTASY FOOTBALL
Baddiel told the Daily Mail: "At Tottenham, the club's 'Jewishness' is just an historical association with the area. It's doubtful that there are more than five per cent actual Jews in the ground at home games (only 0.4 per cent of the UK is Jewish).
"So the argument 'but it's just like Snoop Doggy Dogg using the N-word' does not apply to most Spurs fans."