Is this Edward Snowden? A Russian news website claims it is the first photograph of the NSA whistleblower since he was granted political asylum in August.
To our eyes, the goateed, backpack-wearing chap pushing a trolley through a car park could be any bloke scurrying back from his weekly shop.
But according to Life News, this is the man wanted by the United States for leaking damaging details about US surveillance programmes, openly shopping in Moscow.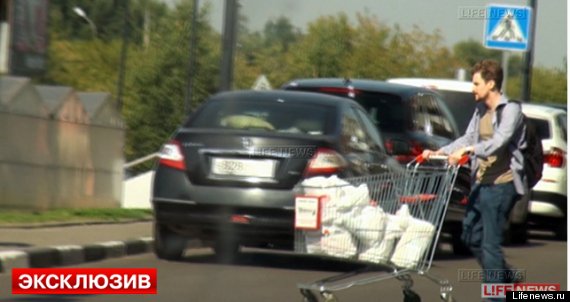 Is this Edward Snowden? Russia's Life News says so
The 30-year-old has not been seen since in public he walked out of Moscow's Sheremyetovo Airport in August.
Life News also published video extracts with Snowden's lawyer Anatoly Kucherena, who refused to confirm if Snowden was living in Moscow and questioned why, if the photo was genuine, none of his client's bodyguards appeared to be present.
The channel is believed to have paid £1,800 for the snap, AFP reports.
The news agency also cites accounts which claim Snowden has been walking around in disguise (not a great one, if this picture is anything to go by).
In July, Kucherena revealed his client was keen to integrate into Russian society, learn the language and get a job.
Snowden was issued temporary documents on 1 August, entitling him to stay in Russia until July 31, 2014.
He had applied for asylum in 21 countries since fleeing the United States for Hong Kong, after revealing details of an intelligence program to monitor internet activity.
Snowden first arrived in Moscow on 23 June.