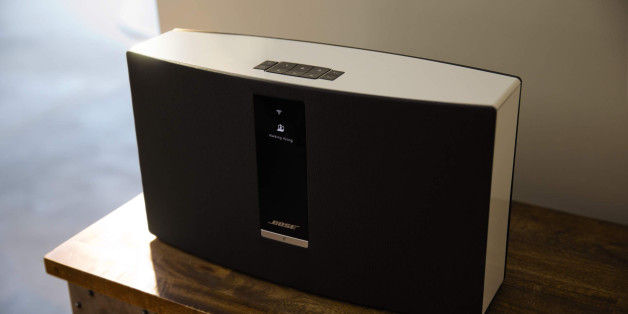 Bose
For all of its features and technical promise, the first thing you'll notice about the Bose SoundTouch WiFi multi-room music system is the sound.
Put simply, these new speakers might be wireless but they sound as good than anything Bose has put out before.
That's exactly what you'd hope for - and expect - from a brand with such a deserved reputation for filling rooms with clear, deep music from small, tightly designed components.
The SoundTouch 30 in particular is pretty fantastic. While it comes in a relatively large package compared to the smaller SoundTouch 20 and the battery-enabled SoundTouch Portable, it's still a pretty small speaker at just 25.4cm x 43.2cm x 17.8cm. Regardless, the sound it generates is hugely impressive. Bass notes aren't just loud, they feel alive - physically below the rest of the sound - and genuinely fill the room.
The SoundTouch 20 and Portable speakers also perform brilliantly regardless of what music you throw at it - and in our hands-on it was clear that the transition to wireless streaming has not come at the cost of Bose's trademark sound.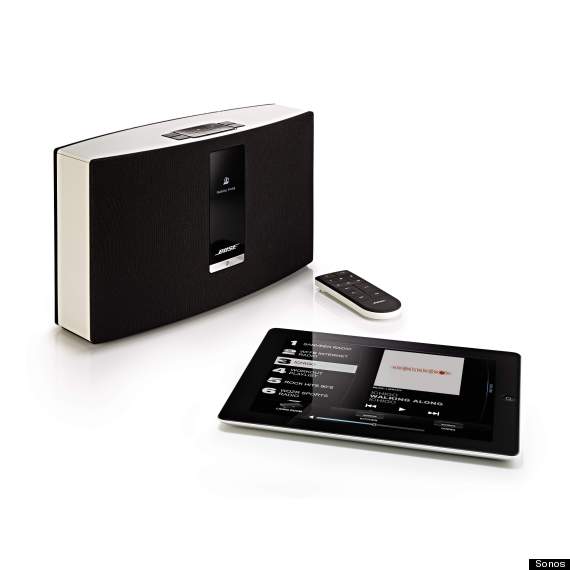 The new SoundTouch app, which controls the new wireless multi-room system, is simple and clear - especially when used in conjunction with the dedicated 'preset' buttons atop each SoundTouch speaker and the separate 'UFO' wireless controller.
Being able to easily drag an album, playlist, artist or station to one of six numbered slots via the app, and then have it play at the touch of a button without using the app is a slightly retro, but neat feature. We can imagine playing more music and radio because of it - and getting more use out of the speakers as a result.
As a whole the app lacks some of the design finesse of other music apps, but presents an accessible, consistent and simple interface across all platforms.

Unfortunately, Bose's competitors also have an early advantage in terms of content. While the SoundTouch ecosystem has a lot of promise, and starts with internet radio and home library content on board - and AirPlay - it has less options than its competitors at launch. There's no Spotify or Rdio, TuneIn radio, Last.FM or Sticher - all of which are available on Sonos and other systems. And while Bose is promising to add services at a rate of about 2-4 a year, it will have to work quickly to catch up.
The system also lacks the ability to play lossless audio, which is a shame.
That said, the combination of 18,000 internet radio systems, plus your home music collection and AirPlay, means that you'll likely have enough content to keep you going until the other services start to arrive. You'll just have to weigh up how long you want to wait - in hope - to stream your Spotify playlists and Stitcher podcasts in many rooms at once.
There are other small niggles, too. It's not possible to connect an auxiliary input into one speaker and stream that input it to your other SoundTouch equipment, for instance, meaning you can't play an old vinyl record throughout the house - one of the best Sonos experiences.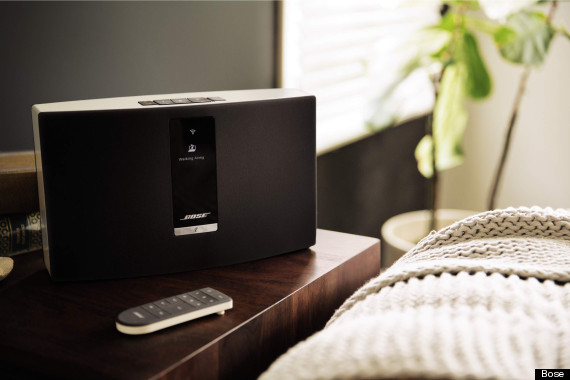 The other issue to keep in mind is price.
The entry-level speakers are fairly affordable by Bose standards, at £349 for the SoundTouch 20 and SoundTouch Portable. But £599 for the SoundTouch 30 is quite imposing -- and the outlay if you're kitting out a whole house is significant. We imagine that like the Sonos system, you'll start with one or two pieces and slowly add to it over time. And the fact that you don't need to also buy a separate bridge helps with the initial cost a bit. If you're already looking at Airplay iPhone speakers anyway, you might even find yourself ending up in the SoundTouch ecosystem by accident.
Overall, our early impression of SoundTouch is that it offers a simple, easy-to-use wireless music system, with excellent sound, at a reasonable price.
Initially it will struggle to match Sonos' range of content - and the lack of a PlayBar equivalent at launch is also a shame. It will also take time to find out where the cracks in the system - they all have them - are. But it's clear that Bose is in this for the long haul, and with sound quality and industrial design this good, you wouldn't bet against them.