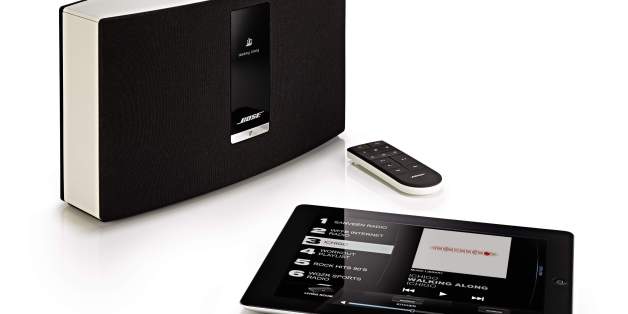 Bose
Bose has unveiled 'SoundTouch', its first WiFi multi-room audio system.
'SoundTouch' will allow you to play audio across a range of new Bose wireless speakers, and control each - or all - from smartphone, tablet and computer apps.
The system is the audio brand's response to similar products by Sonos, and other companies, which allow you to easily pipe music around your home via WiFI.
Bose said their solution has an emphasis on ease of use, its historically excellent sound-quality and straightforward 'preset' features - and claimed that together 'SoundTouch' represented an "entirely new way to listen to music".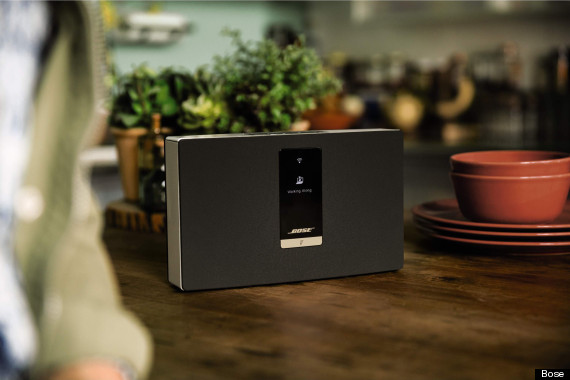 Above: SoundTouch Portable
Three Bose SoundTouch products were announced at a press event in New York, at a range of price-points and sizes:
SoundTouch 30 (£599.95) is the largest of the speakers (25.4cm x 43.2cm x 17.8cm) and offers truly excellent, deep sound able to fill a large room
SoundTouch 20 (£349.95) is more compact (17.8cm x 30.5cm x 10.2cm) which Bose said "sets a new standard for performance from a system of this size".
SoundTouch Portable (£349.95) is smaller still and includes a rechargeable lithium-ion battery so you can take it around the home
Each of the three new speakers will be available in the UK at Bose stores and online from 11 October.
Bose added that all of its products will be upgraded to be compatible with SoundTouch later this year and in 2014, starting with the 'Wave' music system and followed by its SoundTouch Stereo 'Jewel Cubes', the VideoWave TV and its outdoor speakers.

SoundTouch is controlled through a free app available for iOS, Android, Mac OS X and Windows computers.
After connecting the SoundTouch speakers to your home WiFi network (no additional equipment required) the app lets you easily control what's playing in any room. That includes music from any of your computers, but also several online streaming services, such as 18,000 internet radio stations (including the BBC) and Pandora (though in the US only).
Bose said that other services including iHeartRadio and Deezer will be added to the system soon, and hinted that many of the "most popular" services would follow at a rate of about two to four per year.
It also announced that all of the three SoundTouch systems would be AirPlay-enabled, letting you send audio to specific speakers from an iPhone or iPad (though only one at a time) -- and to multiple speakers at once from iTunes.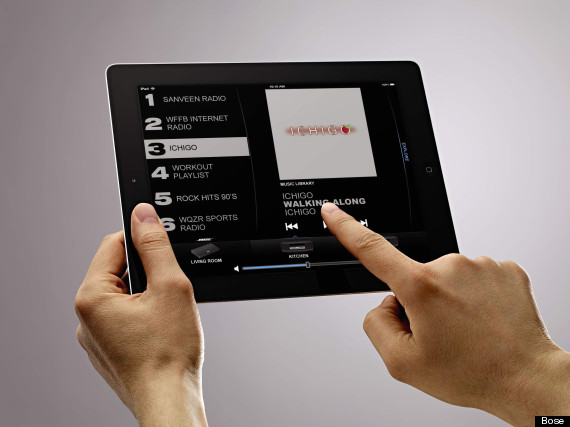 At the heart of the SoundTouch system is the desire to make a WiFi audio system which is easier to use than ever before, Bose said.
A key feature is the inclusion of six numbered 'preset' buttons on the top of each of its speakers, as well as a new wireless touch-enabled remote control.
These presets can be easily set via the drag-and-drop interface to play anything from a specific internet radio station, an album from your computer, a playlist or even a specific song. As soon as you tap the button on the speaker the content bursts into life, without having to load the app.
Bose said it wanted to make turning on music as "easy as flicking a light switch".
"With SoundTouch systems Bose has made WiFi music easier and better -- for any need, any room and anyone," said UK VP of Bose Home Entertainment Phil Hess.

"They offer performance only available from Bose, and continue our nearly 50-year history of innovation".