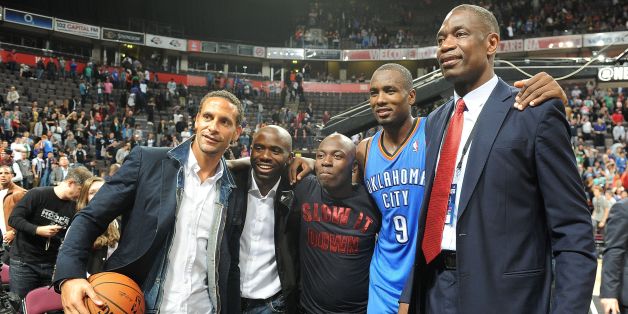 PA
Manchester United players past and present were in attendance at the Phones 4u Arena for Oklahoma City Thunder and the Philadelphia 76ers' pre-season NBA game on Tuesday night.
Rio Ferdinand, David De Gea, Adnan Januzaj and Manchester City's Jack Rodwell and Patrick Vieira were among those sitting courtside, as Olympic gold medallist Kevin Durant collected 21 points, 12 assists and eight rebounds as the Thunder beat the 76ers 103-99.
"I was just trying to be aggressive," superstar Durant said. "There were some good shots I missed early and some good shots my team-mates missed early but we just stuck with it and in the third quarter it came together.
"I just love basketball and any time I have the chance to compete I go for it. Tonight it was pretty fun to play in front of that crowd."
Although the game lacked the intensity of a regular-season contest - with both teams showing the effects of a hectic travel schedule to play across Europe in the NBA's annual summer tour - those on hand, a crowd listed at 13,472, were treated to enough highlight reel plays to keep them entertained.