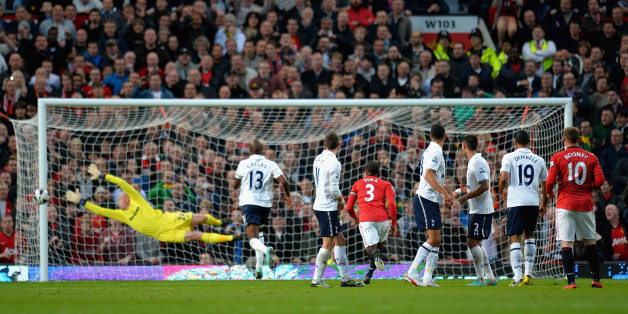 Getty
The Premier League has announced its televised fixture schedule for the much-loved Christmas and New Year period.
One of the most exciting stages of the season, viewers will be able to feast on 25 live matches between 3 December and New Year's Day.
Arsenal feature mostly, with five of their matches on the box, followed by Manchester United, who will appear four times, including their New Year's Day clash with Tottenham.
Liverpool's trips to Spurs, Manchester City and Chelsea are all on telly during a daunting spell for Brendan Rodgers' side.
Arsenal-Chelsea and City-Arsenal are other stand out matches.
BT Sport will broadcast nine matches with Sky showcasing 16.
Crystal Palace v West Ham United
Tuesday 3 December, 8pm (BT Sport)
Swansea City v Newcastle United
Wednesday 4 December, 7.45pm (BT Sport)
Manchester United v Newcastle United
Saturday 7 December, 12.45pm (BT Sport)
Sunderland v Tottenham Hotspur
Saturday 7 December, 5.30pm (Sky Sports)
Fulham v Aston Villa
Sunday 8 December, 1.30 (Sky Sports)
Arsenal v Everton
Sunday 8 December, 4pm (Sky Sports)
Swansea City v Hull City
Monday 9 December, 8pm (Sky Sports)
Manchester City v Arsenal
Saturday 14 December, 12.45pm (BT Sport)
Hull City v Stoke City
Saturday 14 December, 5.30pm (Sky Sports)
Aston Villa v Manchester United
Sunday 15 December, 1.30pm (Sky Sports)
Tottenham Hotspur v Liverpool
Sunday 15 December, 4pm (Sky Sports)
Liverpool v Cardiff City
Saturday 21 December, 12.45pm (BT Sport)
Southampton v Tottenham Hotspur
Sunday 22 December, 1.30pm (Sky Sports)
Swansea City v Everton
Sunday 22 December, 4pm (Sky Sports)
Arsenal v Chelsea
Monday 23 December, 8pm (Sky Sports)
Hull City v Manchester United
Thursday 26 December, 12.45pm (Sky Sports)
West Ham United v Arsenal
Thursday 26 December, 3pm (BT Sport)
Manchester City v Liverpool
Thursday 26 December, 5.30pm (BT Sport)
West Ham United v West Bromwich Albion
Saturday 28 December, 12.45pm (Sky Sports)
Cardiff City v Sunderland
Saturday 28 December, 5.30pm (Sky Sports)
Newcastle United v Arsenal
Sunday 29 December, 1.30pm (Sky Sports)
Chelsea v Liverpool
Sunday 29 December, 4pm (Sky Sports)
Swansea City v Manchester City
Wednesday 1 January, 12.45pm (Sky Sports)
Southampton v Chelsea
Wednesday 1 January, 3pm (BT Sport)
Manchester United v Tottenham Hotspur
Wednesday 1 January, 5.30pm (BT Sport)